Hitotsubashi ICS provides the ideal environment for developing global leadership skills, due to its diverse student body and world-class MBA programme, which places particular emphasis on Japan and Asia. We are part of one of the oldest and most distinguished universities in Japan and have an extensive global network.

One-year and two-year programmes are taught in English at our Tokyo campus and cover unique courses allied with the Global Network for Advanced Management, a worldwide network of top business schools.

Get a world-class MBA for the cost of a national university education and make the best and most rewarding choice for your future career.
Areas of expertise
• One-year MBA
• Two-year MBA
• EMBA

We specialise in international business strategy. Our newly developed Digital Disruption course is a series of sessions with expert guest speakers invited from various industries and fields, such as artificial intelligence, big data, crowdfunding, fintech, the Internet of Things and robotics.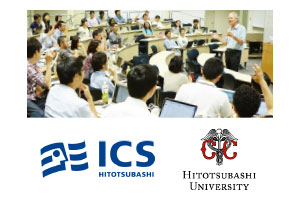 Address
National Center of Sciences
2-1-2 Hitotsubashi
Chiyoda-ku, Tokyo 101-8439
Contact
Rie Tokue, marketing director