Ritsumeikan Asia Pacific University
Since its founding, Ritsumeikan Asia Pacific University (APU) has been a leader in the globalisation of higher education in Japan. Half of our students come from about 90 countries and regions outside of Japan, making our campus an environment of cultural and linguistic diversity, providing an experience unmatched anywhere in Japan.

Students in our Graduate School of Asia Pacific Studies and Graduate School of Management study exclusively in English, and our undergraduate programmes give students the opportunity to take courses in Japanese and English.

APU is the only AACSB-accredited Japanese university to offer an English-language MBA and an undergraduate business curriculum in English and Japanese. Our graduates join a network of professionals spanning over 140 countries and regions.
Areas of expertise
• College of International Management (BBA)
• College of Asia Pacific Studies (BSS)
• Graduate School of Management (MBA)
• Graduate School of Asia Pacific Studies (MS)
• Graduate School of Asia Pacific Studies (PhD)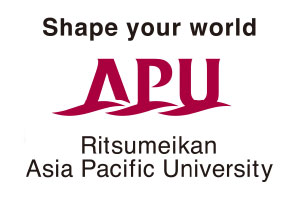 Address
1-1 Jumonjibaru
Beppu
Oita Prefecture 874-8577
Contact
Admissions Office