Please note that, due to the rapidly changing COVID-19 coronavirus situation, all events are subject to cancellation or postponement. Please check event/organiser websites for the latest information.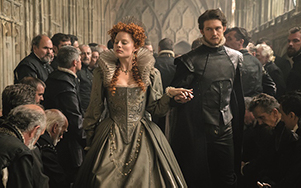 Cinema
Mary Queen of Scots
Queen of France at the age of 16 and widowed at 18, Mary Stuart (played by Irish Oscar nominee Saoirse Ronan) returns to her native Scotland to reclaim her throne. But Scotland and England fall under the rule of Elizabeth I (Margot Robbie). The film, from British director Josie Rourke, focuses on the battle between rival queens and their personal journeys as female leaders in a male-dominated era.
PHOTO: © 2018 FOCUS FEATURES LLC. ALL RIGHTS RESERVED.
Address
TOHO Cinemas Chanter
Hibiya Chanter
100-0006, Tokyo, Chiyoda, Yurakucho, 1 Chome-2-2
More events