I am sorry to hear that BCCJ ACUMEN is ending. I was delighted to have seen its inception when I was Ambassador 12 years ago, and it has been a great showcase for the best of British commerce, services and manufacturing, and a wonderful platform for the work that the British Embassy Tokyo and the British Chamber of Commerce in Japan (BCCJ) have done to promote the UK since then.
Looking back
My memory of the BCCJ goes back nearly 45 years, to when I was a young member of staff at the British Embassy Tokyo in the late 1970s. In those days, the chamber was more of a social expatriate club than a business supporting organisation. By the time I returned to the Embassy in 1993 as Commercial Counsellor, the culture had definitively changed. The redrawing of the terms of trade following the Plaza Accord in 1985, the resolution of the major tariff and most of the non-tariff barriers that had inhibited UK–Japan trade, and then "the lost decade" following the bursting of the Japanese bubble in 1989—all changed the external environment fundamentally and made Japan a much more receptive partner country for foreign  trade and investment than it had been in the era in which it had expanded its economy behind protective barriers.
And the BCCJ, working with its American counterpart and the European Business Council in Japan, played a full part in this activity, becoming expert in the individual problems of specific sectors through its working groups and providing an excellent service to small and medium sized enterprises (SMEs) that were trying to establish themselves in the Japanese market. 
I remember with great pleasure and pride, shortly before I left Tokyo to go back to London in 1998, helping to set up the British Industry Centre in Yokohama—an incubation centre of British SMEs—opened by Prime Minister Tony Blair during his visit to Japan in January that year.
Diplomatic relations
I was in London from 2000 to 2004 working for UK Trade & Investment, the UK Government organisation that tried to bring together all the separate commercial and investment promoting services  across the Foreign & Commonwealth Office (now the Foreign, Commonwealth & Development Office), Department of Trade and Industry (now the Department for Business, Enterprise & Regulatory Reform and the Department for Innovation, Universities & Skills) and other government departments. I used to quote the Japanese example as a guide to British diplomatic offices in other countries of how an Embassy and a Chamber of commerce could work together. At our best, I think we got the balance right—between hands on and very specific business consultancy that provided professional advice to small companies on how to grow their activity in difficult markets, and a powerful promotional platform to sell the best of British abroad.
So, it was an enormous pleasure for me when I returned to Japan as Ambassador in 2008 to resume my close work with BCCJ and of course with my dear friend Ian de Stains OBE, who was the Chamber's executive director. Ian brought wonderful professionalism, creativity and great humour to the work of the Chamber for many years, and we all miss him. 
Representing the UK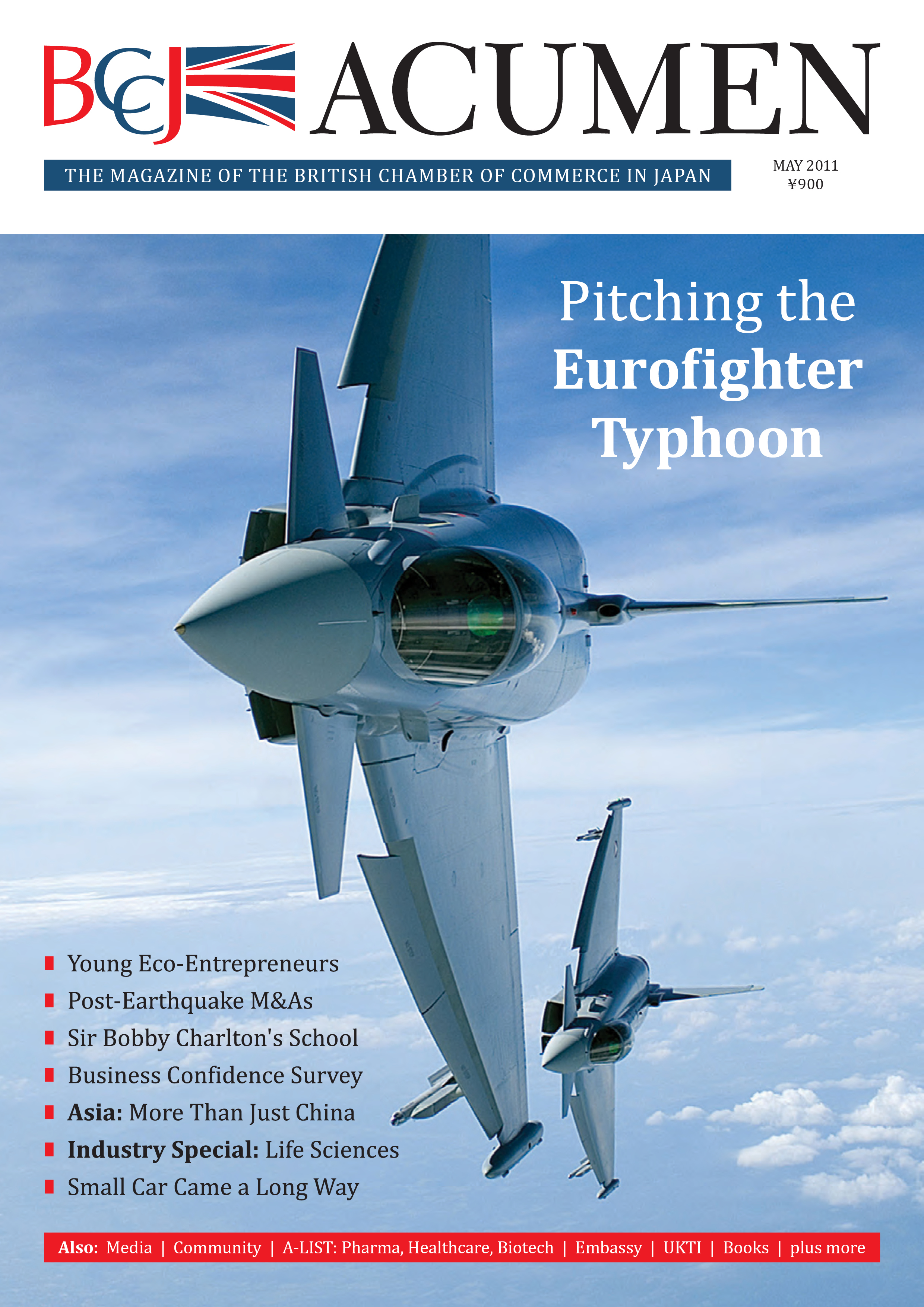 As Ambassador, I knew that my role was to lobby relentlessly for Britain in Japan, sometimes successfully, sometimes with the wind against me. But it was a source of great pride to me, during the ultimately unsuccessful campaign to persuade the Japanese Self-Defense Forces to buy Eurofighter Typhoon, that one Japanese newspaper referred to me as "Top Salesman for Britain". 
I recall vividly one visiting British Foreign Office minister remarking to me how he was struck by the professionalism, balance, and wisdom of the Chamber in Tokyo compared with counterparts elsewhere in Asia. 
I know that this work has continued under the leadership of Lori Henderson MBE, and now Sarah Backley, extending the work that the Chamber has done for so many years into new areas that are increasingly important for us, such as sustainability and equality, diversity and inclusion. As the corporate world changes and as the geopolitical world evolves, the Chamber and the Embassy adapt their work to continue providing the most professional support possible for British business in Japan.
And BCCJ ACUMEN has been part of all this—an attractive and informative journal, which has helped to communicate not just the major trading and investment activity, but a wealth of cultural and social exchange. For many years, the theme of Britain and Japan relations has been partnership. The breadth of that partnership, extending across so many different areas of our lives, has been a tribute to the work of successive generations of British diplomats and businesspeople, and the BCCJ ACUMEN archive is the record of that. It's made a marvellous contribution over its lifetime, and I am delighted to have been able to say thank you to all those who produced it and best wishes for the future.