QUEST TOKYO offers professional educational services to families and schools in Tokyo, framed within the rigour and high standards of the British education system.

Simply put, the goal of our one-to-one tutoring and small group programs is progress; to establish what students seek to improve and deliver a tailored program to meet that need. We aim to be a reliable centre from which parents and students can find experience, vision and support to complement and underpin study at school.

Most recently, we commenced work on a long-term project, establishing the QUEST Special Educational Needs Hub to offer evaluative therapy and support services for children with learning challenges, as well as training and support to schools.
Areas of expertise
• Tutoring across a range of subjects
• English phonics group programmes
• Consultation on schooling both in and outside Japan
• Entrance exam preparation
• Holiday programmes
• Coming soon: support for children with learning difficulties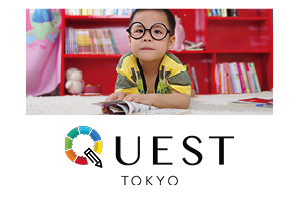 Address
Aoyama Palacio Tower
Level 11, 3-6-7 Kiya-Aoyama
Minato-ku, Tokyo 107-0061