From marmalade to the Mr Men, from Crufts to classic cars and cutting-edge chefs, from football to fashion and finance, contributing to BCCJ ACUMEN since that very first edition way back in 2009 has been a smorgasbord—or whatever the appropriate British term is—of fascinating people with incredible stories. 
From a writer's perspective, the opportunities really do not get much better. Each and every article—whether it was interviewing heads of state or captains of industry, speaking to entrepreneurs with inspirational ideas, people with ambitions to make the world a better place or just meeting ordinary individuals with extraordinary tales—was an eye-opening experience. 
Reflecting
But I confess that when Simon Farrell and Robert Heldt first told me they were setting up Custom Media 13 years ago and launching a new business publication, I was not so sure. 
I had no experience of running a magazine, let alone the broader media organisation that it was shortly to become, but I genuinely had deep concerns that there would be sufficient articles about the British business community in Japan to fill a glossy magazine every month. There seemed to be an awful lot of white pages at the start of each and every editorial cycle. 
That there was never a shortage of stories—and bloody good ones at that—is a testament to two things, I believe. Firstly, the editorial team's ability to ferret out engaging individuals with compelling experiences and, more importantly, the remarkable breadth, depth and strength of UK firms and organisations in Japan. And very quickly, Custom Media and the British business sector built up a mutually beneficial and aligned relationship to fly the flag in this important market. 
To choose a favourite interview or article would be impossible – although pieces about automotive company Lotus Cars, glamping and going aboard HMS Albion when it docked in Tokyo do stick in the memory. But two other categories of story shall stay with me far longer. One was a perennial, the annual British Business Awards ceremony, and the other a one-off disaster that has already gone down in history.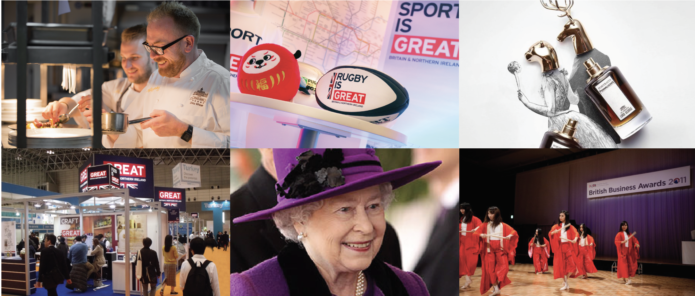 Historic moments
Anyone who was in Japan on 11 March 2011, will remember exactly what they were doing when the earthquake struck and recall the images that filled television screens in the following days and weeks. Yet the response from the British Embassy Tokyo and the community here was instantaneous and impressive. So many dropped everything that they were doing and offered any sort of assistance that they could. 
Late one evening a couple of days after the disaster struck, and with much of the north-east of the country still in a state of chaos, I returned to Sendai looking for a place to stay, write a story and prepare to go out again the following day. I saw Sir David Warren, the British Ambassador at the time, standing alongside one of the embassy's Range Rovers and quickly approached him for a comment. 
We spoke and he detailed all the measures that were being implemented to assist British nationals in the disaster zone. He was clearly worn out. Perhaps he saw the same in me as he suddenly reached out, put a hand on my shoulder and reassured me that we would get through the crisis. It was a generous and much-appreciated gesture.
Britain offered assistance and expertise in virtually every area of the rescue and then the recovery and rebuilding effort, from private sector groups that set up temporary accommodation units to search-and-rescue dog teams that scoured the ruins of countless coastal towns to scientists' advice on dealing with the nuclear disaster.
There was perhaps little that UK firms here could do in the immediate aftermath of the tragedy, but they came into their own once the immediate crisis had passed. From Chamber events to help those most in need, to fund-raising efforts in international schools and assistance from companies, the response was impressive. 
The British Chamber of Commerce in Japan (BCCJ) member companies supported an initiative to provide temporary space for shops that had been destroyed in the disaster, while the humanitarian organisation Refugees International Japan (now called Refugee Empowerment Japan) worked tirelessly for the people of Tohoku. Similarly, the charity cycling group Knights in White Lycra (KIWL) has my lasting admiration, both for their saddle-weary endeavours and those equally eye-watering outfits.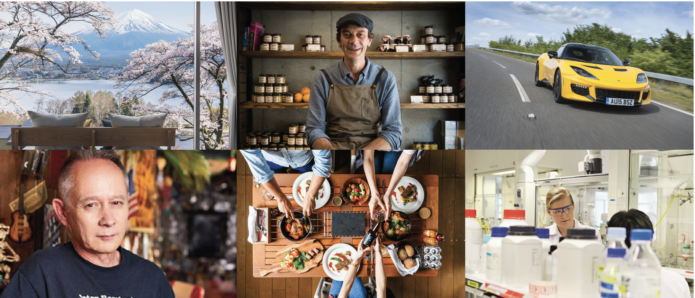 VIPs and celebrations
For the past 14 years, the British Business Awards have been far happier occasions on the Chamber's calendar and a very tangible opportunity to showcase the very best in Anglo-Japanese relations. They have also grown into major occasions, despite the intervention of the coronavirus pandemic in the most recent events. 
To witness the delight on the faces of company representatives—Japanese and British, household names and niche newcomers and in every imaginable economic sphere—has always been a vicarious pleasure. Every business organisation enjoys recognition for its achievements, particularly if it is just starting out on its chosen path, and nomination for an award alone is an honour. Having your company's name read out by the ambassador takes that to another level and it has been dramatic to watch. 
It has not always been smooth sailing for me with the magazine, however. At an official reception at the British Embassy Tokyo, then-Prime Minister Tony Blair brushed past me with more of a grimace than his trademark grin and Cherie Blair gave me a decidedly sideways look when I tried to get a word with them. At a security conference in Tokyo some years ago, Prince Andrew dismissed me with a regal wave of the hand. I once turned up for an interview a full 24 hours early, although the subject was generous enough to drop everything and speak to me. 
The cock-ups and let-downs have been few and far-between, thankfully, and I consider myself extremely fortunate to have been able to meet such an array of fascinating people, from such diverse backgrounds and each with a story to share. 
As the saying goes, all good things come to an end. And while on a personal level I am sorry that this particular element of the chamber's presence in Japan is drawing to a close, I have absolutely no doubts that the institution that the BCCJ has evolved into and the companies, organisations and individuals who are at its very core will go from strength to strength, and that they will be joined by more like-minded and equally capable firms. 
The other plus, of course, is that we shall finally be able to consign that by-line photo of me to the bin. It was taken for the contributors' page of the very first edition and now, 13 years later, it passes only a fleeting resemblance to me. 
So, now it's time for the final proof of the final edition. Start up the printing presses and send it.