This excerpt was taken from Takao Ochi's 22 March article in the Mainichi Japan about the inspirational amount of disabled commentators on the UK's Channel 4 covering the last two Paralympic Games. Translation by Kevin Rea.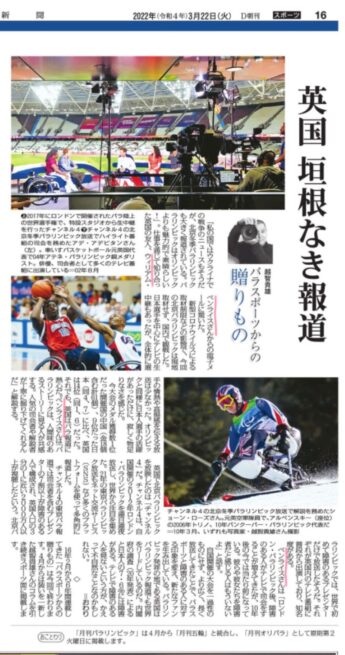 "In my country, the war in Ukraine is getting a lot of coverage in the news, as well as the Beijing Winter Paralympics. But the Paralympics are even more fascinating than the Olympics!"—I was surprised at this e-mail from my friend William Penrice from the UK, whom I met through work.
Due to restrictions on coverage because of the coronavirus pandemic, I was not able to cover the Beijing 2022 Paralympics on site, but I watched them from Japan. There were also live TV broadcasts covering the Japanese athletes, but overall, there were few that conveyed the passion and exuberance of the participants. As with the Tokyo 2020 Olympic and Paralympic Games Japanese athletes were very active, but I still felt dissatisfied.
The UK came in 14th in the Games (six medals in total, one gold) compared to host country China at 1st (61 medals in total, 18 gold) and Japan at 9th (seven medals total, four gold). Still, Britain is very enthusiastic about Paralympics coverage. As my friend Penrice explains, "The Paralympics are a human-interest story that people can relate to, and popular presenters and commentators cover them with a lot of care".
Channel 4 aired the Beijing 2022 Paralympics in the UK. The channel attracted worldwide attention by broadcasting the 2012 London Paralympics every day and night. The 2020 Tokyo Paralympics were also covered from various angles using many platforms, including SNS.
More than 70 percent of the commentators on Channel 4's Tokyo 2020 Paralympic Games coverage were disabled, and the games were viewed by more than 20 million people, nearly one-third of the UK's population. The Beijing 2022 Paralympics were the first in the world to be broadcast exclusively by presenters with disabilities. Each of them is well known for their regular appearances on TV programs in the UK.
Penrice said, "After the London 2012 Paralympic Games, more and more people with disabilities are hosting shows on TV, and now, 10 years later, it is the norm. No one notices the disabilities anymore". 
By not making these competitions a one-off event, but broadcasting them more widely and for longer, they have changed the impression of para-sports and people with disabilities—and have created new fans. The UK, the birthplace of the Paralympic Games, is also leading the world in Paralympic Games coverage. According to a 2020 Japanese Cabinet Office survey, 7.6 percent of Japanese people have a disability. It will probably become more unusual not to see people with disabilities on TV.