Aoba-Japan International School
Aoba-Japan International School (AOBA) is one of the only full IB World Schools in the Tokyo area and features the typical characteristics expected of an IB school. Aoba has also been honoured to be selected as the MEXT IB Consortium Chair in recognition of its expertise in IB curriculum and pedagogy. What sets Aoba apart from other schools, however, is the innovative, progressive approaches to learning we employ from Kindergarten through Grade 12. Aoba consistently features authentic team-based inquiry in all three IB programmes at the school: PYP, MYP, and DP.

We take a multi-age, transdisciplinary approach to the IB that really brings the programmes to life for our students. Our students co-plan their learning with their teachers and are supported to truly take ownership of their studies whilst developing desirable marketplace skills and dispositions, as described in our Core Values. Students move beyond simply solving problems for themselves or even solving them for others. We seek to develop students that can create the conditions to empower others to solve problems for themselves, a more sophisticated and powerful mode of—as we say in our Mission Statement—leading positive change in the world.

The new Bunkyo Campus for our Senior Years students will be opening in 2022.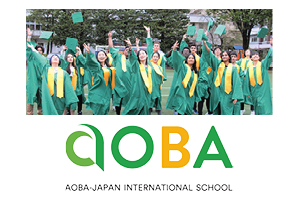 Address
Hikarigaoka-Campus
7-5-1 Hikarigaoka
Nerima-ku, Tokyo 179-0072
Contact
School Admissions Office
Phone
Hikarigaoka Campus: 03-4578-8832
Meguro Campus: 03-4520-2313