Shinagawa International School
Shinagawa International School (SIS) is an IB PYP-accredited school offering preschool classes (ages 3 and 4), a kindergarten and a primary school (G1-6).

SIS Vision: To foster passionate, independent, highly-motivated learners who actively contribute to world peace.

SIS Mission: To provide a multicultural learning community which nurtures a passion for academic, social, and personal success.

SIS Educational Philosophy: SIS aims at educating each of its students to be: inspired and independent life-long learners; academically, artistically, socially, and physically balanced; inquirers and problem-solvers; multilingual communicators; responsible and principled internationally-minded citizens; appreciative of our local community.
Areas of expertise
• IB World School
• Native homeroom teachers
• English as an Additional Language (EAL) support
• Low student-to-teacher ratio
• Japanese language instruction at Kokugo level
• Diversity: more than 30 nationalities
• Wide range of ASP programmes
• Daycare service
• School bus service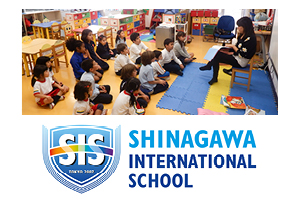 Address
4-8-8 Higashishinagawa, Shinkan Bldg. Shinagawa
Tokyo 140-0002
Contact
School Admissions Office