Lakeland University Japan Campus
As an international campus representing more than 40 nationalities, Lakeland University Japan (LUJ) offers a distinctive US undergraduate program in a unique setting in Shinjuku. A branch campus of an accredited Wisconsin university, LUJ offers a two-year Associate of Arts program that allows students to extend their studies on the main campus or at another university, where they can earn a Bachelor of Arts degree.

Aside from the high-quality instruction in English, LUJ's greatest strength is its size. Because the student body is small, faculty and staff know all students by name and provide individual attention and assistance. LUJ's unique "2 + 2" program allows students to take courses in Japan while earning an Associate in Arts degree and half the credits towards a Bachelor's degree here or abroad. Thanks to this program, students have a better chance of transferring to a competitive university in the United States or elsewhere than they would have had applying directly after graduating from high school.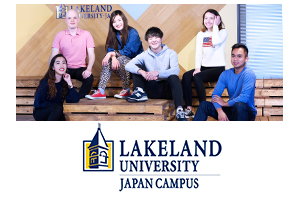 Address
5-7-12 Shinjuku, Shinjuku-ku
Tokyo, 160-0022 Japan
Contact
Dr Alan Brender, dean