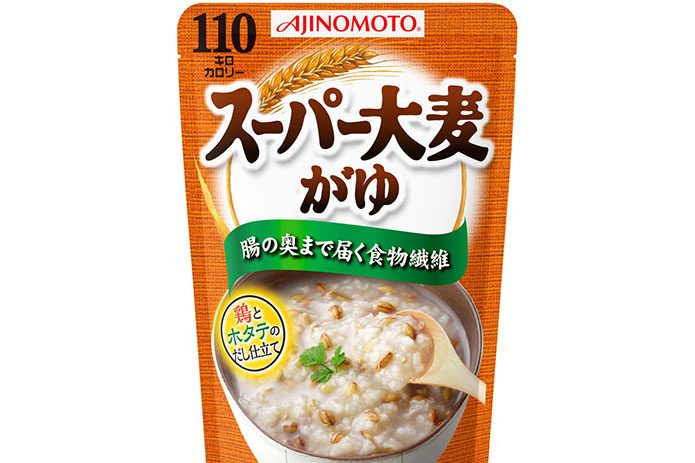 Product diversification involving a manufacturer's entry into a field unrelated to its main lines of business is always newsworthy, and it was on this note that the 18 September edition of Nikkei Business examined recent activities by Teijin Limited, Nihon Paper Industries Co., Ltd., Iris Ohyama, Inc. and others into the area of food.
One example is a new chicken and scallop- flavoured porridge from Ajinomoto Co., Inc. named Supa Omugi-gayu, or Barleymax. Introduced to FamilyMart Co., Ltd. convenience stores on 22 August, the product sold more than 1mn packs in the first week. The maker then had to retroactively designate the item a limited edition, and end sales by 18 September.
Ajinomoto's product, which took two years to develop, came to fruition through a joint venture in Australia between its supplier Teijin and a local firm.
"When we showed X-ray analyses of the structure of the dietary fibre, the man in charge of product development at a foodstuffs firm was quite surprised and wanted to be involved", a manager at Teijin said.
Nihon Paper Industries, meanwhile, has been producing a biomass material called cellulose nanofiber, an extremely fine plant fibre material that becomes viscous in water and enhances the distribution of particles. Proved safe for human consumption, it is being tested with various food products.
In 2015, Iris Ohyama entered the market for electric rice cookers and has since moved on to rice products themselves, tying up with Sato Foods Co., Ltd. to offer pre-cooked packets of high-quality rice.
In the first year, the firm is aiming for a turnover of ¥3bn, representing a 5% market share.
The common feature in the above ventures, the article notes, is that each firm is seeking to create new value, by merging its proprietary technologies with new products. In addition, it plans to give the firms access to the foodstuffs market, with its annual turnover of ¥22tn.