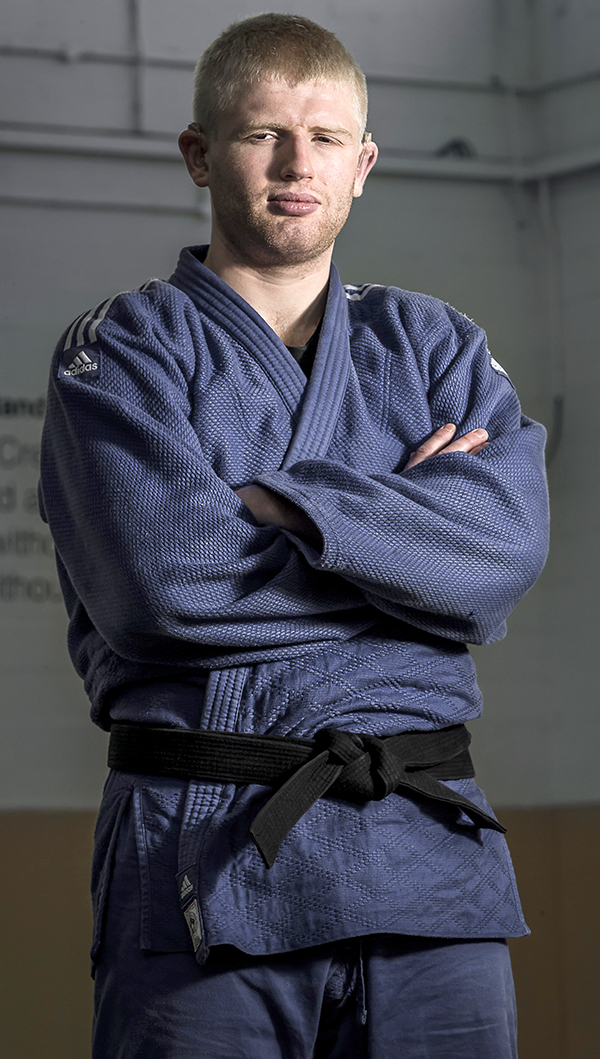 If Chris Skelley qualifies to represent Great Britain at the Tokyo 2020 Paralympic Games, he will have a significant advantage over most of the other British athletes coming to Japan. This is the home of judo, his chosen sport, and he has been here eight times already to train and fight.
And now, ranked number two in the world in the under-100kg class for visually impaired judoka, Skelley says he intends to reverse the "heartbreak" he felt at the conclusion of the Rio 2016 Para­lym­pics, where he finished fifth.
Road from Rio
"It seems a long time ago already, and it was the best two weeks of my life," he told ACUMEN. "I have never experienced anything quite like it before and—touch wood—Tokyo 2020 is going to be even better.
"I came in fifth in 2016, and I gave it every­thing I had," he said. "But it was heart-breaking. I had put in so much time and effort with my coach in order to go and get a medal, but then I lost.
"I came off the mats and I tried to do an inter­view straight away, but everything they teach us in the media training sessions went completely out the window.
"There was too much emotion and it all just came out," he said. "I was crying live on television, and it was embarrassing. But that experience has given me new resolve for the next one".
Now 26, Skelley is originally from Kingston upon Hull, in East Yorkshire, and was a keen athlete and rugby player as a youth, representing the Hull Ionians in his teenage years. He started judo at the age of five and was part of the England squad when his eyesight began to fail.
Diagnosed with ocular albinism, a genetic condi­tion that results in the loss of pigmentation in the iris, Skelley was forced to give up his job as a mechanic. He began to direct his energies increasingly to judo and was brought onto the Great Britain visually impaired judo team. Competing in the under-100kg category, he won three bronze medals in the under-20 age group at the National Championships between 2010 and 2013 before lifting gold when he represented England in the Scottish Open.
Going abroad
Representing Britain at the International Blind Sports Federation's European Judo Championship in Portugal in December 2015, Skelley narrowly missed out in the semi-final to a last-second throw by Russia's Abdula Kuramagomedov, the current world champion, and had to settle for bronze.
After the disappointment of Rio, Skelley had his best-ever World Championships, taking another bronze in Portugal last November. But now, his target is very much qualifying for Tokyo and delivering a medal-winning performance.
"We have been putting in a lot of time at the gym to keep topping ourselves up and to keep challenging ourselves," said Skelley after a two-hour sparring session in the judo halls at International Budo University. The private university, in the town of Katsuura, Chiba Prefecture, offers a specialised curriculum based on Japanese martial arts.
"For me, it's really good to come to Japan to train, to get a fresh perspective. And obviously judo is a massive sport here, so it's great to have this opportunity".
Path to victory
Perhaps surprisingly, Japan's Paralympic judoka are not among the strongest in the world, with fighters from Russia and South Korea among those who Skelley knows he will have to beat if he wants to triumph in Tokyo.
No matter the amount of training that goes into honing a judoka's skills ahead of a tournament, Skelley knows that the outcome of his bout in the biggest sporting tournament in the world will come down to the events of just a few minutes on the day when he takes to the mats.
"If I qualify—and that is my priority at the moment—then it all comes down to what happens on the day," he said. "As I saw in Rio, there are no certainties in judo, and if the other guy is simply having a better day than I am, then he is going to beat me.
"This is such an unpredictable sport, but I'm training hard and I am very hopeful that I can qualify," he said. "And then the aim is to win a medal in Tokyo".
Skelley's family were in Rio to cheer him on, and they have promised to do the same in Tokyo in 2020. "They're always there for me; they give me all the support in the world," he said. And this time, he hopes that when he hugs them beside the mats it will be tears of joy that they share.