British etiquette is world-renowned, and notions that the British are uniquely well mannered are widely held. Indeed, appreciation for this "proper" way of doing things stretches to Japan's shores.
The concept of British etiquette is perhaps most strongly associated with the traditional British afternoon tea, an occasion enjoyed the world over. So it was no surprise that, when The British School of Etiquette's Principal Philip Sykes held a traditional afternoon tea on 1 November, the event was heavily oversubscribed. Sykes led a room full of tea and etiquette enthusiasts—a group of women, with but one man among them—through the event at The Westin Tokyo, hosted by RSVP, a culture and lifestyle magazine focused on the UK.
"What we are experiencing here today is going to be English afternoon tea", Sykes began, highlighting that "high tea" does not exist and in fact refers to an early supper or dinner. English royal afternoon tea, on the other hand, serves Champagne or sparkling wine with afternoon tea, while English cream tea involves scones accompanied by jam and clotted cream.
Early on in the instructional session, Sykes addressed the idea of putting milk in a cup before the tea, something that sends shivers down the spine of many a tea drinker.
"Back in the 1800s when the cups were cheaply made, they had to put the milk in first because if they put the hot water in first [the cups] would break", Sykes explained. Tea was an expensive commodity back then, too, so teacups were very small and often had no handles. This gave rise to the famous pinkie-out hold, which he revealed was simply used for balance and is not something that should be done today.
Among the other topics addressed were napkins, posture, settings and what to wear.
Sweet and savoury
Teatime has certainly changed from its original bread and butter offering. Chefs now have more creative license, Sykes said, making for more varied and colourful savoury and sweet dishes, including those served at the event.
"Most of the afternoon delicacies we can eat with our fingers. Most people start with savoury, but if you have a sweet tooth it's fine to start with something on the top tier", he said.
Discussing the typical teatime spread, he named smoked salmon and cream cheese on brown bread, as well as the traditional English cucumber sandwich, which features thinly sliced cucumber—set aside for a time to eliminate some of the moisture—with a little cream cheese on white bread as those usually featured.
Last, he described the coronation chicken sandwich, comprising shredded boiled chicken, mayonnaise, raisins and a final touch of curry powder.
Next on the agenda were scones, a staple of any afternoon tea. He was met by giggles when he asked, "Do I cut the scone, or do I break the scone?" Thus he explained, "You handle the scone exactly the same way as you handle a piece of bread or bread roll at dinner or lunch." Then came the much-contested jam and cream discussion.
"The Cornish people believe that they created the English cream tea, and the Devonshire people believe they created the cream tea, so when you are in Devon you put the cream first and the jam on top, and when you are in Cornwall you put the jam first and then the cream on top".
A history
Afternoon tea has its roots in the 1840s, when Anna Russell, Duchess of Bedford and lady-in–waiting to Queen Victoria, found that the gap between lunch and dinner was too long. Asking her manservant to bring some bread or something sweet to have with her tea, and finding this agreeable, she went back to London and invited friends to join her for similar occasions. "As you can imagine, these ladies were so impressed", Sykes said.
"Soon after that, a lot of the teahouses in England realised that this was a great opportunity to add revenue streams and encourage people to come into their establishment to have tea as well as cakes, sandwiches and scones", he explained.
BCCJ ACUMEN spoke to Sykes after the lesson to find out more about The British School of Etiquette's work and the demand for it that seems to be growing worldwide.
Japan is "a very proud and sophisticated society, so a lot people get frustrated when they don't know the right thing to do", he explained. "They are always seeking to improve themselves".
But while opinions on etiquette have certainly changed over time, Sykes believes this does not dilute its importance. "There will always be a need for things to adapt or change slightly, but I stand fast with this one, there is always the underlying manners and etiquette we were brought up with".
He pointed to the idea that rejecting traditional manners was a means of standing out for the wrong reasons, but this has changed, with many now embracing them. "You stand out for the right reasons", he said.
When asked about the impact events such as this and other forms of training have on business people, he said the crucial thing is that it helps build confidence.
"Feeling comfortable in your own skin in any situation is what it really boils down to, and so it's about building confidence, building knowledge and knowing what to do in any situation", he explained.
"It's definitely the feeling that you can handle yourself. And the moment you feel this, there is an element of confidence—not arrogance".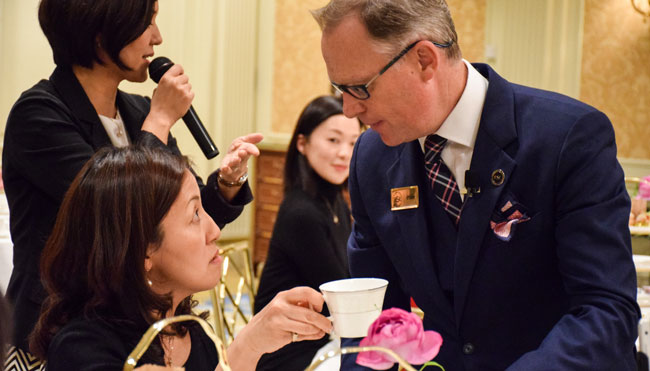 For women, too, he believes there is a strong confidence-building aspect.
"Over and above what they have experienced today, I definitely feel this could lead on to great development for them, and women understanding and realising that it's no longer a sort of subservient approach on any level", he said.
This, he said, strongly relates to mindset, a hot topic for many women in business in Japan.
"We go in depth into emotional management, emotional intelligence and body language", he said. "I suppose we are different to a lot of etiquette and finishing schools; we really get down to the nitty-gritty of business coaching, personal coaching and mindset".
Meanwhile, there is something to be said for men taking these classes, too. In particular, he highlighted the effect that the widespread use of technology has had on society and the impact it has had on social skills.
"With modern technology moving very fast, people have become very attached to their digital equipment, and I truly believe that men and women have lost the ability to communicate and engage with each other. People are literally asking each other on dates through a text message, and that is literally how relationships are taking place".
From this perspective, providing men with the confidence and gusto to engage with their peers and the opposite sex is a crucial part of the classes.
"You don't get a chance to make a second impression, and I think the art of presenting ourselves in each situation has been lost".
Looking ahead, Sykes is positive that there is potential to grow even further, and the demand for training in etiquette and manners is increasing, particularly in the United States, China and Russia.
"People understand the importance of it, and in them saying that to me it just makes me realise how all of this has fallen by the wayside and people are just wanting it back more than ever".
Tips for tea
Pinkies in, not out
Stir from the six o'clock position to the 12 o'clock position, three to four times
Pinch the handle, don't put your finger through it
Only hold the saucer if you are standing or sat at a low table
Leave the spoon in the jam jar