When Chizuru Kadowaki stepped into the arena at the National Exhibition Centre in Birmingham earlier this year—to thunderous applause and the flashes of what seemed to be thousands of cameras—it was both the culmination of a lot of hard work and the highlight of a career breeding dogs.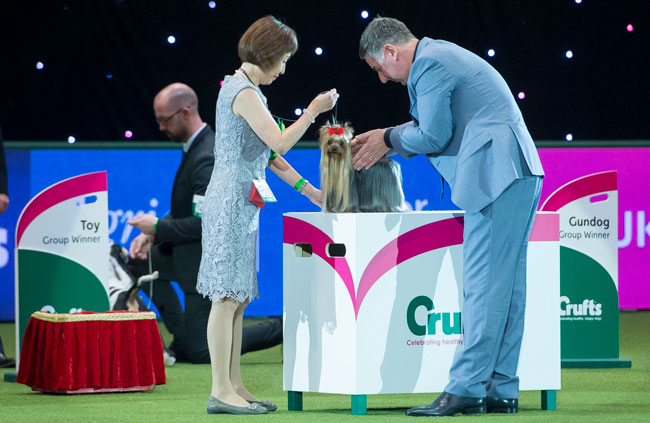 Trotting alongside her was the source of that pride, My Precious JP Kadowaki, a five-year-old Yorkshire Terrier that had just been named the winner of both Best in Breed and the Best in the Toy Group categories at Crufts 2017.
"When the results were announced, I just could not believe it", Kadowaki confessed to BCCJ ACUMEN. "To be honest, I still find it difficult to believe that it all actually happened".
A professional breeder of Yorkshire Terriers and Chihuahuas for more than 30 years, Kadowaki lives in Yokkaichi, Mie Prefecture, and has taken part in more than 12 dog shows in the UK in previous years—but Crufts 2017 will be difficult to top, she agreed.
"Crufts is the largest dog show in the world and many, many top-quality dogs from all over the world are entered", she said. "As you can imagine, the competition is very tough—and to win not only the Best in Breed but also the Toy Group is a huge honour for me".
Beauty and elegance
Asked about the secret behind the success of My Precious, her owner said all entrants need to meet the breed standards, be in good health and have a pleasant character. "But even more important are beauty and 'elegance' that match the breed", she said.
To achieve that, Kadowaki spends at least two hours every day grooming her dog—a process that helps to build a strong bond between the pair—while diet and exercise are also critical components to preparing a show-winning dog.
"But the most important thing is that she has to be a happy dog", she said. And that happiness goes both ways, she added, pointing to the growing popularity of dogs in Japan, and particularly smaller breeds such as Yorkshire Terriers.
Grand final
Almost 22,000 dogs took part this year in what is the world's largest and most prestigious show of canine class. Held over four days from 9 March, it has grown into such an important event that the final is shown live on Channel 4.
The event judges dogs in seven classes, including gundogs, hounds, terriers and working dogs, with the winner of each category going on to the grand final on the last day.
Caroline Kisko, secretary of the Kennel Club, applauded Kadowaki's achievement immediately after the result was announced at the 126th Crufts show.
"We are delighted to see Kagayaki chosen as the Best in Group winner today", she said. "Kadowaki and Chizuru should be very proud of reaching the prestigious Best in Show final; it's an incredible achievement and one that not many get to experience in their lifetime.
"Crufts celebrates healthy, happy dogs and recognises the special and unique bond between dogs and their owners", she added. "Kadowaki is such a lovely dog that clearly has a great relationship with her owner and is at home in the show ring".
My Precious—resplendent with a red bow in her hair—did not take the Best in Show award, but Kadowaki is not downhearted, particularly as the dog went on to take the Best of Breed in another UK dog show in May.
Kadowaki and My Precious followed up their Crufts appearance with further dog shows in Japan, but Kadowaki is already considering returning to Birmingham next year, perhaps this time with her Chihuahua.
"I am not completely sure just yet, but I would like to go back and compete again", she said.