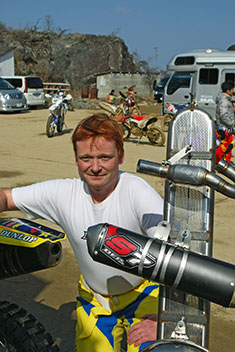 Luke Hall is a motocross, or off-road, competitive rider originally from Christchurch, Dorset. He is also the Japanese importer of British-made DEP Pipes motorcycle exhausts.
BCCJ ACUMEN visited Hall on a muddy and undulating racetrack in Kawachinagano, south of Osaka.
As he prepared for a race, Hall explained some of the protective clothing needed. Fastening himself into his bike armour and donning a helmet, he said entry level gear costs some ¥50,000. This includes footwear and protective covers for shoulders, back and knees.
Hall does not ride on public roads, preferring the safety of a designated track. "I like being able to open the throttle up; I like the feeling of power", he said.
Motocross bikes do not reach high speeds on the curved tracks. A bike like his, a 450cc Suzuki, is capable of 100km/h, but on the track, speeds of over 60km/h are rarely attained.
It is a physically demanding sport. Riders have to use their legs to stabilise the bikes around the corners; they need to wrestle with the handlebars, change the gears and apply the brakes—in this case, for two gruelling hours.
Hall imports between five and 10 DEP exhausts a month, and can expect to sell 80% of those within four weeks.