Experts agree that reducing carbon emitted by road vehicles is critical for the UK government's target of cutting emissions by 80% (compared with 1990 levels) by 2050. To illustrate how this might be achieved, those behind some of the UK's latest automotive R&D recently showcased their solutions in Japan.
Delegates at the Automotive Engineering Exposition and Congress, held from 18-20 May in Yokohama, heard how even the iconic London taxi is enjoying a green makeover, with plans for a full-performance, zero-emissions, fuel-cell hybrid in time for the Olympics in 2012.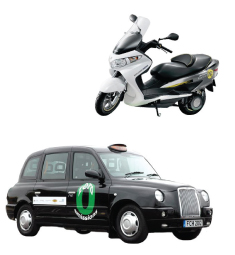 Loughborough-based Intelligent Energy, Lotus Engineering, LTI Vehicles and TRW Conekt, all with funding from the government's Technology Strategy Board, are behind the new taxi powered by a hydrogen fuel-cell system, hybridised with lithium polymer batteries, that allows it to operate for a full day without refuelling. Capable of more than 129kph, it has a range in excess of 402km on a full tank of hydrogen, can be refuelled in about five minutes, and emits only water vapour.
As hydrogen filling stations should be available around London for the Olympics, this also will be great for two-wheelers. The Suzuki Burgman scooter, for example, is fuelled by a UK-made hydrogen cylinder and aimed at commuters in Europe, North America and Japan, where it will pioneer a significant reduction in carbon emissions. The Burgman, unveiled in London in February 2010, is the result of several years' collaboration between Intelligent Energy and the Suzuki Motor Corporation. The scooter can be recharged in just a few minutes to give a range of 350km.
Electric motorbikes powered by hydrogen fuel cells also have no harmful exhaust emissions and Intelligent Energy has created the world's first purpose-built hydrogen fuel-cell motorbike (the ENV)—vital for a future of cleaner urban commuting. The ENV is fuelled by pure hydrogen and emits only water. It can be refilled with hydrogen in less than five minutes, makes virtually no noise, has a top speed of 80kph, and has a range of 161km.
Cenex, the National Centre of Excellence for Low Carbon and Fuel Cell Technologies, explained that it runs programmes for the government on vehicle and infrastructure development and deployment, and promotes energy-efficient technologies and alternative fuels to help reduce carbon emissions from road transport.
Even aerospace is greening. In Europe, the amount of CO2 emissions generated by aviation is set to increase by about 70% by 2050. Although passenger airliners will continue to use engine technologies for main power, emerging fuel-cell technology means cleaner skies and less waste—a fact proved in 2008, with the world's first manned fuel-cell flight.
Isle of Man-based Bladon Jets Chairman Paul Barett introduced his firm's breakthrough technology that enables the production of small gas-turbine engines that are lighter, less polluting and cheaper than reciprocating engines used in almost all cars and small planes today.
For the 10th consecutive year, the UK participated in the annual automotive exposition organised by the Japan Society of Automotive Engineers (JSAE) with help from UKTI, the British Embassy Tokyo and the Department for Business Innovation and Skills. Chargé d'Affaires David Fitton told delegates: "We remain committed to developing our world-class, low-carbon technology capabilities and have announced a further £400mn to support research and development into new technologies and market development".
The UK is also investing in infrastructure, he said, with more than 9,000 electric charging points being installed in homes, workplaces and on the street, along with a consumer incentive of up to £5,000 supporting the purchase of Ultra Low Carbon Cars.
MADE IN BRITAIN
• Toyota's first European-built hybrid, the Auris, is produced in Derbyshire
• Nissan is investing more than £420 million in a Sunderland battery plant
• A new hydrogen-refuelling station has been commissioned near the Honda plant in Swindon
• The Burgman Scooter, developed by UK and Japanese enterprises, recently achieved the world's first Whole Vehicle Type Approval for a fuel-cell vehicle
For information:
Yasuhiro.Shimasaka@fco.gov.uk