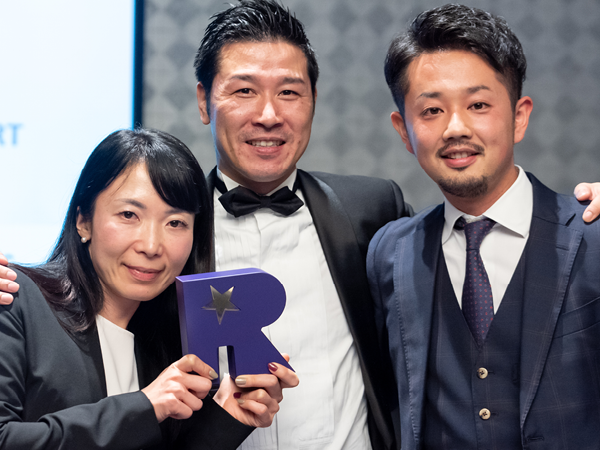 On 25 October, leading human resources firms from around Japan gathered at the Hotel Gajoen Tokyo to celebrate the annual Recruitment International Awards (RI Awards), which recognises innovation and best practice among firms in the human capital industry.
A number of firms with a strong footprint in the UK—including Morgan McKinley, Robert Walters Group and SThree plc—attended the black-tie gala.
Eighteen prizes were up for grabs and winners each walked away with a coveted RI Trophy: an iconic, R-shaped award in eye-catching purple and gold gongs.

British winner
Morgan McKinley—the first of three winning firms with a UK connection—was named Banking & Finance Recruitment Company of the Year, an award open to firms that have achieved impressive results in those sectors over the past three years.
Results mean more than billings. It includes showing how your firm has built a solid rapport with clients, how strong future prospects are and what really sets it apart.
Speaking to ACUMEN, Lionel Kaidatzis, managing director at Morgan McKinley, said: "We view the Recruitment International event as being the most prestigious awards ceremony in our industry. To have won the Banking & Finance Recruitment Company of the Year award for the third time in five years is truly something that we are immensely proud of. This award is a testament to our excellent people, who are unrelenting in their dedication and commitment to delivering for our valued clients and candidates".
UK origin
The second British-affiliated firm to be recognised was SThree K.K. The London-headquartered firm won two awards on the night: Best Corporate Social Responsibility (CSR) Initiative and Growth Company of the Year.
As a member of the judging panel noted, "This company has an incredible CSR programme running throughout its business, which has, in fact, already helped thousands of disadvantaged people".
In line with its areas of focus, which include human capital sourcing in science, technology, engineering and mathematics (STEM) fields, SThree's CSR initiatives have included campaigns to raise funds for the African Science Academy, an all-girls high school with a focus on STEM established in 2016 in Accra, Ghana.
Speaking about SThree, another judge said, "This company achieved growth right across the board, lifting turnover, profits and headcount".
Grant Habgood, managing director at SThree, said: "We were elated to win both these awards. This year, as a business locally, we have made a concerted effort with CSR, holding more events and raising more awareness than ever before. And Growth Company of the Year is a nice reward for our fantastic team who are working extremely hard to position ourselves as leaders within the markets we recruit for".
From 2018 to 2019, SThree nearly doubled its headcount, growing from about 30 employees last year to nearly 60 this year.

Double winner
Robert Walters Japan K.K. was also a double award-winner on the night. The UK-headquartered consultancy took home Specialist Recruitment Company of the Year and Best Large Recruitment Company of the Year honours.
A judge said: "This company has a focus on building long-term, high-quality relationships with clients and candidates centred on trust and loyalty".
In receiving the prizes, Jeremy Sampson, managing director at Robert Walters Japan, said: "We are honoured to receive these two awards, as I believe these serve as a well-deserved recognition of our employees' daily efforts. We will continue to tirelessly support both the recruitment activities of our clients, who place us in a high degree of trust, and the professionals who are taking on the challenge of further advancing their careers".
Looking ahead
This year's RI Awards were co-hosted by Surrey-based recruitment firm TALiNT International and Tokyo-based multimedia agency Custom Media K.K., publishers of ACUMEN.
David Head, director at TALiNT International, and Jody Pang, strategic account director at Custom Media, were the masters of ceremony.
The RI Awards are held around the world, including in the United Arab Emirates, Australia and the UK. Next year's RI Awards in Japan will also take place in October.