Case Study 2

• Firm develops advanced speech-recognition technology
• Asked UKTI for help after 2004 visit to Tokyo flopped
• Joined Passport for Export programme and trade mission
• UKTI officers offered know-how, contacts and advice
• New partnerships formed, thanks to UKTI guidance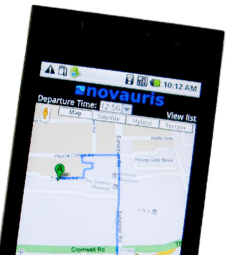 A small firm based in Cheltenham is thriving proof that Japan's electronics giants do not have the monopoly on cutting-edge technology. Set up in 2002 by a team of internationally renowned speech researchers, Novauris Technologies from the outset believed that our voices would become the interface of choice for consumer applications of all types.
And so it is proving. With consumers demanding quick and accurate access to data, without needing an enrolment process or time-consuming dialogues, the key to the firm's growing reputation—including in Japan—lies in Novauris' large-vocabulary automatic speech recognition systems.
"The company was founded to solve a particular set of problems in the field of speech recognition, namely voice-driven access to information contained in a large database or list, such as names of people, places or products, addresses and so on", according to Dr Melvyn Hunt, joint founder of the firm with John Bridle and Dr James Baker, who previously set up Dragon Systems.
The firm's NovaSearch technology—compatible with the Windows and Windows Mobile operating systems, as well as iPhone, Android and Linux—couples advanced speech recognition with proprietary, rapid search techniques. And all that is triggered by a single utterance by the user.
The technology also opens up possibilities for new applications in areas ranging from entertainment systems, in-car navigation systems, location-based information provision and automated call centres.
And while the technology-obsessed Japanese market was an obvious target, it was not at first plain sailing for the firm. An initial visit in late 2004, shortly after Dr Yoon Kim joined as chief executive, was a disappointment, since the firms that Novauris met were either not serious about adopting speech-recognition technology or, in some cases, viewed the firm simply as a competitor.
"We were encouraged by the success we had in engaging with Samsung Electronics as one of our first partners, in 2005", Hunt said. "Shortly after that, we started thinking about entering the Japanese market. We knew that we had to have patience and perseverance", he added. "We also knew that speaking on the phone in public is not appreciated in Japan, making the adoption of voice-driven user interfaces more difficult".
Novauris enrolled in the UK Trade & Investment (UKTI) Passport for Export programme and in 2006 joined its trade mission on mobile and wireless technologies to Japan and South Korea.
"Without the assistance of UKTI, it would have been very hard for us to make much progress in Japan", Kim explained.
"We needed the large number of meetings facilitated by UKTI early on, to understand the importance of embedded speech recognition in the Japanese market", he said. "If we had not understood that lesson quickly through the UKTI contacts, it might have been too late to develop the technology needed to form the partnerships we now have.
"Subsequently, we needed the personal contacts and the advice about how to go about developing partnerships in Japan that came from the UKTI trade officers".
Kim said Novauris was "fortunate to meet trade officers who not only had the local knowledge and the necessary connections, but also had a genuine interest in our technology and helping us".
The firm's biggest competitor is US-based Nuance Communications, while there are also a number of local rivals. But Novauris' biggest advantage lies in its uniquely powerful embedded speech recognition software, called NovaSearch Compact. It is so advanced that, on a smartphone, it can recognise any street address in the US spoken as a single input, and it can respond in about two seconds.
"We find that business in Japan, as in other Asian countries, is heavily based on trust, and that trust in turn depends on getting to know the decision-makers in Japanese companies, often in informal surroundings", said Kim, who is based in Silicon Valley. "The local UKTI trade officers helped us to understand that and helped us to develop those personal relationships".
And given that available helping hand, Kim believes that other British firms should be more confident about coming forward and looking to get a presence in the Japanese market.
"The training provided by UKTI in Japanese business culture—concerning business cards, for example—is useful, but there is, of course, also a language barrier. Apart from that, our experience is that cultural differences between the UK and Japan are not enormous", he added. "In fact, my British colleagues find dealing with Japanese counterparts no more challenging than dealing with many Americans.
"There is much to be said for operating in Japan, including the culture of politeness, trustworthiness and reliability", he said. "Given the innately careful and conservative nature of Japanese businessmen, especially in larger organisations, I would caution other British companies of the need for patience, perseverance and understanding of a culture that pursues perfection".