The UK–Japan Comprehensive Economic Partnership Agreement (CEPA) was signed on 23 October in Tokyo, media reported, ensuring smooth bilateral trade beyond 1 January, 2021, when the UK's departure from the European Union (EU) means Britain will no longer be covered by Japan's trade deal with the EU.
Media said that CEPA is very similar to the EU–Japan Economic Partnership Agreement, but is more finely tuned to the concerns and collaboration potential of Japan and the UK. It also includes a chapter on digital trade.
The signing was the culmination of a major negotiation effort—and an efficient one, considering the challenges of the pandemic—by both sides.  Emblematic of the obstacles overcome was the gift that Liz Truss, Secretary of State for International Trade and President of the Board of Trade, presented to Japanese Foreign Minister Toshimitsu Motegi at the signing: a jar of Stilton cheese.
With much to gain on both sides, ACUMEN rounded up some key benefits of CEPA across a range of industries.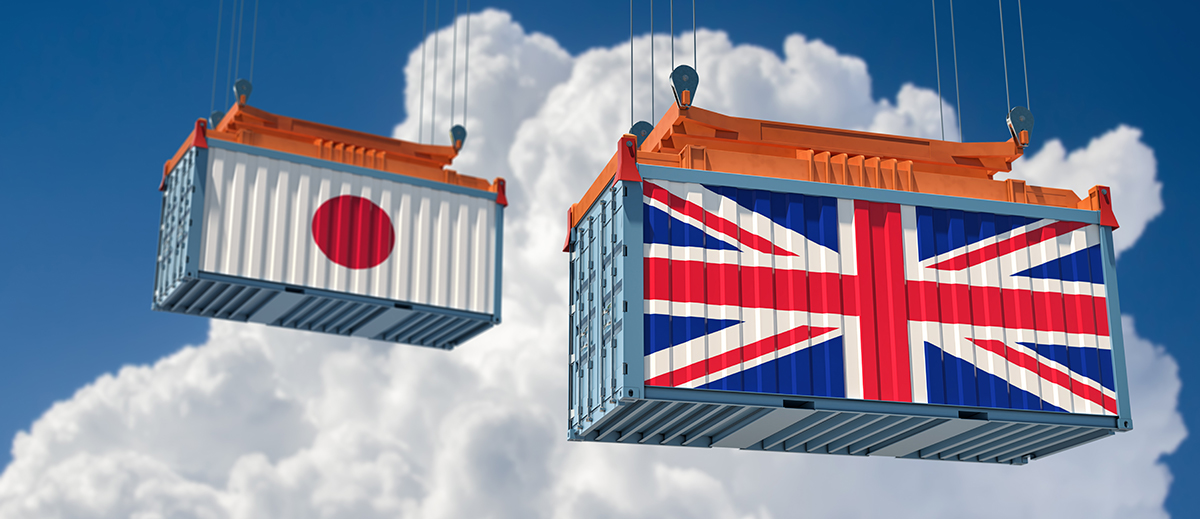 5G boost
Building out the UK's next-generation communications network will get a boost from Japan's NEC Corporation, according to Capacity magazine. The Department for International Trade tweeted on 23 October that Truss and NEC Chairman Nobuhiro Endo "talked about NEC's 5G deployment and collaboration in the UK, including the establishment of the 5G Open RAN Centre of Excellence. The UK–Japan Comprehensive Economic Partnership Agreement is expected to further develop digital partnerships with Japanese firms".
Better fit for rag trade
Rules of origin outlined in CEPA should be a better fit for British clothiers, the UK Fashion and Textile Association (UKFT) said on 9 November.
"A clothing producer could sew together imported fabrics into a coat, and then export the final product to Japan under tariff preference, as long as 50% of the inputs are sourced domestically," UKFT explained. "This change may allow high-value producers of goods including knitwear, suits, gloves and coats to increase their exports to Japan".
To make trade easier, the UK and Japan have agreed to allow self-certification of origin, so that importers from either country do not need a certificate from their customs authority. This will give firms more options.
Bring on the digestives
The trade deal is also being well received in the East Midlands where Ashbourne, Derbyshire's Artisan Biscuits sees easier exports and higher sales in the announcement. Last year the firm signed a £57,000 agreement with a Japanese importer.
"Japan is a sophisticated market that values quintessential British products such as our biscuits, which Japanese consumers like to have with certain types of teas," Director John Siddall told the newspaper Derbyshire Live on 1 November. "A free trade agreement could make it easier to export our biscuits as we continue to grow in the country over the coming years".
Two-way trade
Snacks benefit the other way as well, with the import tax on Japan's popular chocolate-covered biscuit sticks being cut by 31% once CEPA comes into force, according to The Japan Times. That's a sweet deal for Osaka-based Ezaki Glico Co., Ltd., which produces the snack.
Pocky is not alone. British import tariffs are also set to drop on bluefin tuna (22%), Kobe beef (60%), soy sauce (6%) and udon noodles (13%).
Selling sand to Arabs
Tuna isn't the only fish that can benefit from CEPA. Japan is already one of the UK's key destinations for seafood, with 2,006t—worth £16.6mn—exported to the country in 2019. Among the most popular species are mackerel, herring, sardines, crabs, lobsters and, of course, Scottish salmon (page 39), according to Fish Farmer. With tariffs on seafood being liberalised over a 15-year period and becoming duty free in 2036, a stream of opportunities should lie ahead for the industry.
Bilateral benefits
Over the next 15 years, as a result of CEPA, British exports to Japan are expected to rise by 17.2% (£2.6bn or ¥356bn) while Japanese exports to the UK should get a 79.9% (£13bn or ¥1.8tn) boost.
Media noted that Prime Minister Boris Johnson set the future in motion on Twitter, saying it was "a historic moment as we formally sign the UK–Japan Comprehensive Economic Partnership Agreement, marking a new era of friendship between our nations".