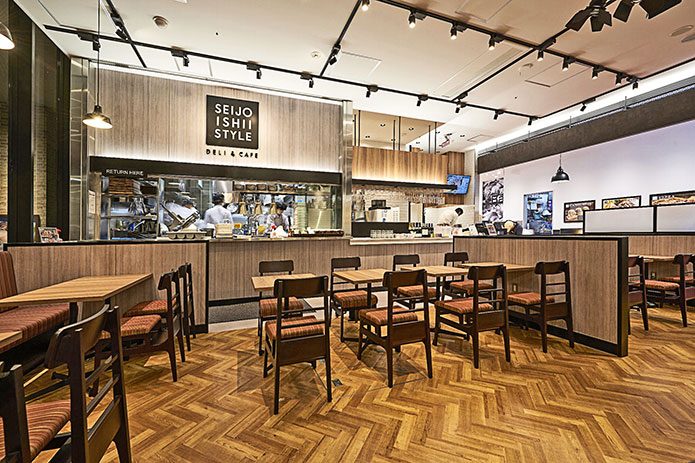 On 29 September, a new branch of the supermarket chain Seijo Ishii Co., Ltd. opened above the underground station at Chofu in Tokyo.
After passing through displays of various processed food items and fresh groceries and meats, one arrives at a separate section of the store furnished with tables—the "groceraunt"—featuring a signboard menu illustrated with larger-than-life, mouth-watering photos of featured meals: beef burgers from native Japanese breeds, pasta with shrimp, combo meals for pizzas and steaks, and other items, at prices ranging from ¥990 to about ¥1,500.
"We want customers to be able to savour our carefully selected food ingredients with all five senses", Masafumi Hayafuji, executive director of Seijo Ishii, told the Nikkei Marketing Journal (NMJ).
The concept of a groceraunt—a portmanteau of grocery and restaurant—differs from that of "eat-in", positioning such locations as similar to the whole foods markets that have become popularised by large supermarket chains in the United States. At Seijo Ishii, customers can purchase 90% of the ingredients used in the groceraunt at the supermarket
Similarly, in the underground shopping area adjacent to Tokyo Station, an Italian-style restaurant opened at the end of August. Cleverly named EATALY Gransta Marunouchi, it is affiliated with the trading firm Mitsui & Co., Ltd..
"I can purchase the ingredients here and take them home", a female customer told an NMJ reporter. In addition to fresh pasta, the shop sells prosciutto, various cheeses, wines and fresh vegetables grown in Japan. About one-third of the turnover is from meals served on the premises, with the remainder derived from purchases carried out by customers.
A company employee in her thirties who works nearby told the newspaper she enjoyed stopping by after work, either to dine there or purchase food items to prepare at home.
New setting
This concept of combining dining and grocery shopping seems to have struck a harmonious chord with the Japanese, who like the idea of first tasting dishes prepared by professionals and then using the same ingredients to experiment at home.
One key factor in the development of groceraunts, the NMJ suggests, is the spread of online shopping, which challenges conventional food retailers to come up with new ideas to remain competitive.
"What we are offering is the experience of dining while surrounded by food products", an executive of EATALY Asia Pacific Ltd. was quoted as saying.
"Supermarkets can't only sell food items; they must become places where customers can be made to experience foods in season", Seijo Ishii's Hayafuji added.
Meanwhile, the NMJ notes that sales have also been growing for kits designed to save time as well as take the guesswork out of meal preparation. Demand is said to be fuelled by the growth in double-income households, which now number 11.29mn—up by 16% over a decade ago.
Food sales in Japan for 2016 were broken down into three categories: naishoku (eating at home), at about ¥32tn; nakashoku (buying pre-cooked or partially prepared ingredients to consume at home), at about ¥10tn; and gaishoku (eating out in restaurants, etc.), at about ¥25tn.