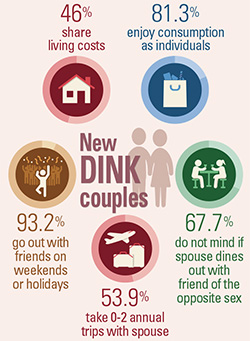 The term DINK, the acronym for double income, no kids, was imported by Japan's marketers in the late 1980s. In an article on 28 October, the Nikkei Marketing Journal estimates that such households have increased 1.7-fold since then, to total an estimated 3.62mn in 2012.
Over the past 30 years, the image of DINK couples—as free spenders who love to go out or take trips together—has undergone considerable change, thereby warranting a change to the term New DINKs. Now, according to the Nikkei Marketing Journal's most recent survey, New DINKs effectively comprise "two singles living under the same roof" with separately managed incomes, and separate likes and dislikes. So, while they constitute a significant proportion of the population that marketers cannot ignore, finding new ways to appeal to them poses some daunting challenges.
"I don't really know the details of my husband's income or savings", said 35-year-old Tomoko, who tied the knot with Naokazu Hanamoto, age 36, seven years ago. He concurred: "Aside from splitting our living expenses roughly down the middle, we keep our purses completely separate".
Survey data gleaned from 1,241 respondents in the 20–40 age group indicate this is the situation in about one in five couples. It is common for 46.0% of these childless working couples to share their living costs. Half of them hold independent savings; 81.3% said they enjoy consumption as individuals; and 93.2% of them have no qualms about going out with friends on weekends or holidays. Some 67.7% even said they did not mind if their spouse dined out with a friend of the opposite sex.
In terms of outlays, their monthly kozukai (pocket money) used for discretionary expenditures averaged ¥69,000, and 53.9% of respondents said the number of annual trips taken with their spouse ranged from zero to two. This shows a marked decline from 1992, when Nikkei Resort magazine found that DINKs averaged 4.3 trips together per year.
While cynics pronounce such lifestyles in terms of "divorcees living together", some insist that such equitable relationships have a plus side, with fewer constraints and less annoyance over their partner's bothersome habits.
Staff in the men's section at the Shibuya branch of department store Seibu have noticed that fewer wives now purchase articles of clothing for their husbands. While still relatively high at about 67%, the figure is said to have declined by between 7% and 8% from 10 years ago. The good news is that when men do their own shopping, they tend to indulge by buying more expensive briefs or socks.
Due to the ongoing trend to get married at a later age, the National Institute of Population and Social Security Research has projected that the percentage of childless couples would increase to 21.2% of the nation's households by 2035.