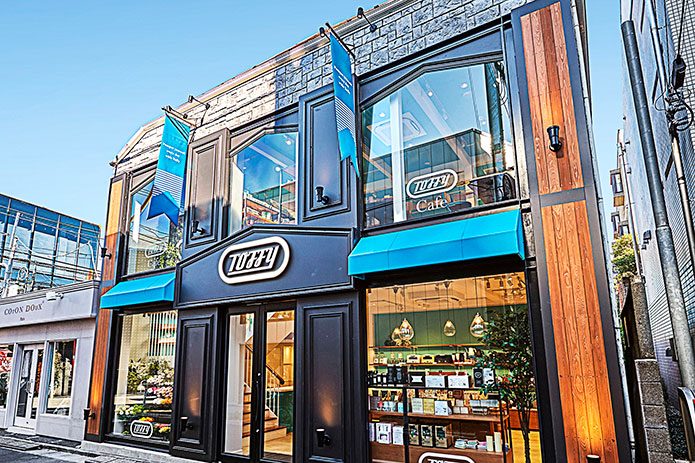 In Japan, it is not uncommon for businesses with recognisable brand names and solid distribution networks to diversify into products or services quite different from their main line of business. King Jim Co., Ltd., known mainly for its office supplies and electronic accessories, has begun promoting a new line of home appliances, such as toasters, coffeemakers and food processors, through a so-called antenna shop in Tokyo's trendy Jiyugaoka shopping district in Meguro Ward, the Nikkei Marketing Journal (25 December) and other newspapers have reported.
Antenna shops are short- to medium-term experimental operations that provide a setting for on-the-spot customer feedback.
They mostly rely on walk-in business and so are set up in areas likely to attract the desired consumer demographic.
They do not necessarily sell a firm's standard products. In fact, they need not display the sponsoring firm's name or sell anything at all, since their intended function is to serve as an antenna to garner word-of-mouth data on what consumers are thinking.
Named Toffy Jiyugaoka, King Jim's shop occupies a two-storey building and has some 120m2 of floor space, roughly equivalent to that of a convenience store. The shop mainly sells goods from Ladonna K.K., a subsidiary of King Jim and a speciality homeware and interior goods maker.
One of the more interesting attributes of Toffy, which King Jim is hoping will serve as a draw to the shop, is the chance for visitors to go upstairs and drink hot beverages produced with the coffee maker models on display. They can also avail themselves of pop-up toasters—the nostalgic styling of which evokes memories of the 1960s American TV sitcom Bewitched—on the premises, so as to compare the aroma, taste and texture with the products they're using at home. Imported butter from France is also provided.
The antenna shop is expected to welcome 60 to 120 visitors per day—mostly women in their thirties and forties.