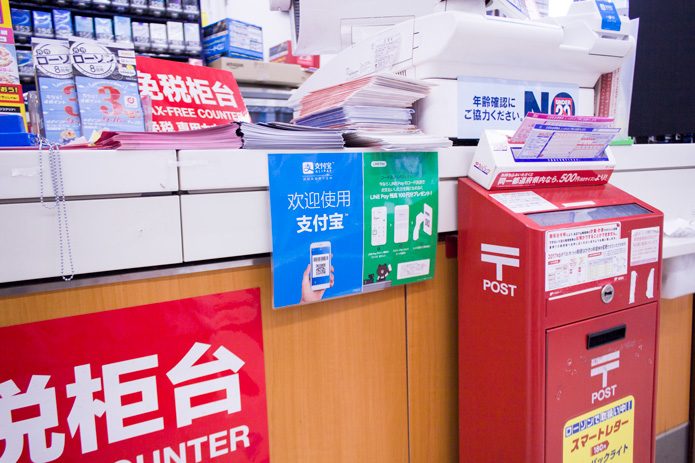 During fiscal 2016 (ended in March 2017), the number of convenience stores in Japan grew 2.4% year on year, to reach 57,610. According to the Nikkei Marketing Journal (NMJ) dated 26 July, overall sales for the period had grown 3.1% year on year to ¥11.19tn.
Japan's big three chains, which account for 89.2% of all outlets, are Seven-Eleven Japan Co., Ltd. (40.4% of all outlets); FamilyMart Co., Ltd. (26.9%); and Lawson, Inc. (21.9%). Given that 50,000 outlets was once considered the nationwide limit, the market is becoming saturated, resulting in intensified competition that spills over into other retail sectors.
At the same time, the shops are diversifying and experimenting with various new products and services, which are showing beneficial results. In the words of one store manager, "Customers are staying longer in the shops. And buying patterns have changed more than we thought they would".
The NMJ attributes convenience stores' continued growth to "merchandising power". One particular feature has been the expansion of private brands—7-Eleven, for example, offers no fewer than 1,880 of its own proprietary items, up 30% over the past five years. These items are said to account for 60% of total sales. In rival chains FamilyMart and Lawson, private brand goods account for about 40% of sales, while their share of total sales has been increasing.
Lawson, for example, has tied up with Godiva Japan, Inc. to develop an exclusive line of chocolate items, on a par with the fancy goods typically sold as gifts in department stores. Some fans of the Godiva brand have made negative remarks online, saying that selling that brand in konbini detracts from its special image.
But Godiva Japan has decided that having its confections carried in more than 12,000 Lawson outlets around the nation outweighs the disadvantages. It reportedly sold 2.5mn chocolate roll cakes in two weeks, and followed that up with sales of more than 1mn chocolate puddings.
The practice of offering limited-edition private brand goods also extends to non-food items. 7-Eleven tied up with Schick Japan K.K. to offer a new type of disposable men's razor named Extreme, which claims to be the world's first to incorporate five blades.
Another recent move by konbini chains has been to offer tax-free shopping and other amenities, such as English- and Chinese-language Internet services, to tourists from abroad. Since 2016, seven national chains have adopted tax-free measures and electronic settlements at some of their outlets. Customers from China, for example, can use the Alipay mobile payment system in Japanese shops. The barcode reader automatically converts the purchase amount to renminbi, the amount of which is instantly displayed on the cash register. From July, Lawson also began a cash back scheme that enables Alipay purchasers to apply accumulated points towards a future purchase.
These and other new systems just coming into service are expected to greatly simplify many types of international electronic transactions for the 40mn foreign arrivals expected by 2020.
The NMJ also reports that 7-Eleven has joined forces with NEC Corporation to develop a new type of hand-held terminal for in-store use. Utilising a built-in camera to capture images of the shelves where products are displayed, the system—named the Graphic Order Terminal (GOT)—enables staff to share sales data broken down by time period. Each outlet is expected to procure an average of three terminals.
Using GOT, for example, to compile the number of bento (boxed meals) or sandwiches in stock on a given day at, say, 11am, would enable merchandise to be stocked by the same time the next day. In addition to ensuring sufficient goods are available during times of peak demand, it is anticipated that franchise operators will be able to use the system to transmit images of various items of merchandise on store shelves hour-by-hour to the corporate headquarters, where staff can provide advice.
Up to now, similar sales data had been compiled on paper or stored on DVD, but GOT is expected to greatly speed up analysis of customer demand. As stores continue to struggle with an ongoing labour shortage, the firm is pinning its hopes on the new system streamlining the drudgery of taking inventory while lightening worker burdens.