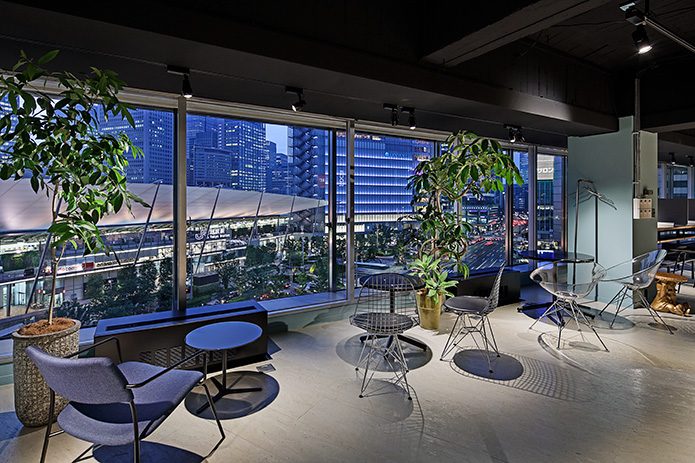 The Nikkei Marketing Journal dated 16 August reported that refinements in the types of facilities offered by shared offices have succeeded in increasing demand. These efforts are being spearheaded by two major real estate firms: Tokyo Tatemono Co., Ltd. and Mitsui Fudosan Co., Ltd.
In July, Tokyo Tatemono began offering space in an office building located in the Yaesu district of Chuo Ward, close to Tokyo Station. Named Plus Ours Yaesu, the building offers some 380m2 of shared office space that has been designed to appeal to staff from regional cities who ride into Tokyo using the network of Shinkansen trains. The shared facilities include an open lounge available for a fee of ¥20,000 per month, per person or ¥2,500 on a single-day basis. Alternatively, a furnished one-room office can be leased for as little as ¥80,000 per month.
The firm is said to be planning to open additional shared office facilities in other parts of the city.
Mitsui Fudosan, through a brand called Workstyling, has set up a leasing system that is aimed exclusively at businesses and focuses on teleworking. In addition to Tokyo, the firm currently operates 18 such facilities in Osaka, Nagoya, Sendai, Hiroshima and other cities. All spaces are available to employees of contracted members.
Electronic records are kept of entry and exit, utilisation of the offices and conference rooms, as well as activities of staff working away from their regular place of employment. Ajinomoto Co., Inc., Fuji Xerox Co., Ltd. and other major firms are said to be making use of Mitsui Fudosan's services. Expansion to Sapporo and other cities is expected to raise the number of Workstyling offices to 30 by the end of fiscal 2017 (ending 31 March, 2018).
Another firm, Tokyu Land Corporation, currently operates four shared office facilities in central Tokyo, and is reportedly mulling further openings.