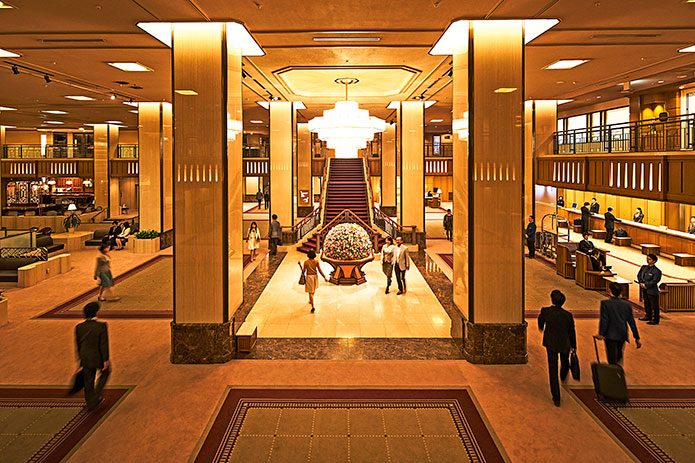 The 4 November issue of the Weekly Diamond business magazine ran the results of its annual consumer preference survey of hotels and airlines. As a condition for voting, the 10,000 participants were obliged to have used the services at their own expense—as opposed to on the company tab.
The pollees were asked to give points based on evaluations of 15 criteria: reservations, check-in, location, bathroom, view, breakfast, other food and beverage services, quality of staff, atmosphere, newness, brand image, word-of-mouth recommendations, room charges, special offers and restaurants.
Ranked first in customer satisfaction again this year was the Imperial Hotel Tokyo with 655 points. The establishment was praised, in descending order, for its staff, quality of rooms, atmosphere, check-in and location.
The top 10 were rounded out by:
Ritz-Carlton, Osaka (361 points)
Shinagawa Prince Hotel (358)
Tokyo DisneySea Hotel MiraCosta (301)
Suginoi Hotel in Beppu, Oita Prefecture (258)
RIHGA Royal Hotel, Osaka (248)
Park Hyatt Tokyo (244)
Hotel New Otani Tokyo (218)
Conrad Tokyo (204)
Among the so-called business hotel chains, which have smaller rooms and fewer amenities, the top five was led by the APA Hotels & Resorts (462 points), which was particularly favoured for its locations. A cash-rebate sign-up campaign netted APA an additional 130,000 members.
The runners up included:
Toyoko Inn Co., Ltd. (366 points)
RNT Hotels Co., Ltd. (251)
Route Inn Japan Co., Ltd. (243)
Dormy Inn (204)
The accompanying article in Weekly Diamond notes that, as of September 2017, the total number of inbound arrivals this year came to 21.19mn. In terms of hotel room demand, the September figure is up 14% over that for the previous year—making the first nine months of this year roughly the same as for all of 2016.