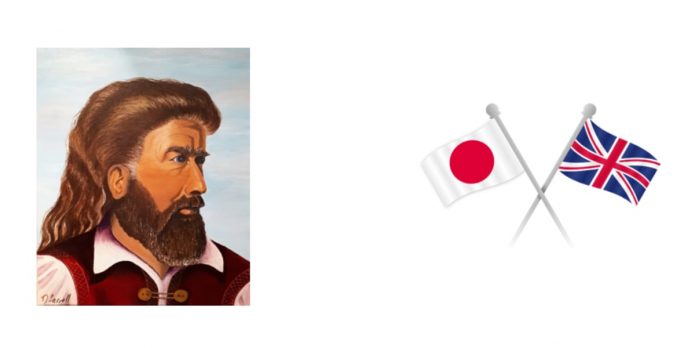 May 16, 2020 (TOKYO)—Experts have formally identified the final resting place and remains of the first Briton in Japan, William Adams, who became a samurai and adviser to the shogun.
It is now confirmed that navigator William Adams (1564–1620), from a humble background at Gillingham in Kent, was buried at Hirado in Nagasaki Prefecture. Adams landed in Japan in April 1600 on a Dutch ship and later was befriended by the shogun, Tokugawa Ieyasu (1543–1616). Multilingual Adams became Ieyasu's foreign affairs adviser and teacher of multifarious subjects.
The long-awaited historical find is even more poignant because the 400th anniversary of Adams' death is being marked this year with a series of high-profile events in Japan, where he is known as Miura Anjin. His fascinating story of adventure and enduring friendship with Tokugawa Ieyasu is taught to Japanese schoolchildren, but he is much less known in the UK.
The Tokyo-based William Adams Club (WAC), established by Robin James Maynard MBE in 2015 as a non- profit organization, commissioned a memorial monument by sculptor Kate Thomson for 5.4 million yen, to be erected at the British Embassy Tokyo, and a portrait donated by artist Nicky Farrell for WAC events.
The WAC now plans to help raise Adam's profile in the UK and further preserve his legacy and bilateral history in Japan.
Thanks to a 3 million yen grant from Maynard and full cooperation with Hirado City Council, Adam's skeletal remains were found at a site that theoretically could include his grave, the William Adams Memorial Park on Sakigata Hill, Hirado. Excavations that began in July 2017 confirmed it was Adams' grave in April this year from conclusive forensic tests on bones carried out by the University of Tokyo.
Maynard said: "In giving back to Japan, which overall has been kind and supportive to me for 42 years, my original intention was to fund the refurbishment of the William Adams Memorial Park at Hirado for the commemorative events there to mark the 400th anniversary of his death at Hirado today. The amount was more than enough, and attention turned to the mystery of an insignificant unmarked old stella, set to one side in the Memorial Park and partly under a path. Serendipity waved her wand and the important mystery is now solved, although not quite as important as Richard III."
WAC member Professor Richard Irving played a pivotal role in the project, with this unexpected and significant historical result. "For much of my adult life I have been intrigued by William Adams and his achievements; and being integral to the excavation and identification of the remains, on behalf of WAC, simultaneous with my retirement in Japan, is my career highlight."
Professor Irving is currently writing a book covering the whole life of William Adams, which will include hitherto little-known detail on his early life in England.
Contacts:
Robin James Maynard MBE
Founder and President
The William Adams Club
rjmaynard126@yahoo.co.uk
Simon Farrell
Publisher
Custom Media (Communications Partner of The William Adams Club)
simon@custom-media.com