To open and operate The Tokyo British Club was, Yukihiro Imadegawa freely admits, an extraordinary labour of love.
From endless planning sessions before the club could open its doors to the legal mine­field that surrounds the establishment of a bar in Tokyo and the import of British beer, staffing head­aches and late-night phone calls to his home asking him to intervene in some situation or other, the project was an unending undertaking.
When it eventually came time to shut the club, he had to ensure that the appropriate legal pro­ce­dures were carried out and contri­­buted his own money to partially reimburse the credi­tors pro rata. Still, Yukihiro and his wife, Ursula Bartlett-Imadegawa, president of the St David's Society Japan, much prefer to focus on the happier moments.
Best of times
The memories that linger longest, they say, are always the happiest ones. There come to mind Yukihiro performing an impromptu operatic rendi­tion from Mozart's The Marriage of Figaro, family Christmas celebrations, an appearance by oh-so-British comedian Frank Muir CBE (1949–98), as well as a children's Easter party that had so much chocolate that it ended with the parents sitting at the bar drinking Champagne and eating shards of Easter eggs.
But the very best part of the 10-year adventure, the couple told ACUMEN, was simply being able to meet up with old friends in the bar and to make new acquaintances.
"The idea for The Tokyo British Club came out of a summer postcard that I sent in July 1985 to Adrian Jenkyns, then the head of International Computers here in Tokyo," said Imadegawa, a lawyer and founder of the Imadegawa Law Office.
"On the postcard I wrote that I missed British beer and wondered if there was any way we could solve that problem," he explained, adding that while British pubs and Irish bars are two-a-penny in virtually every Japanese city today, 30 years ago there were none, even in Tokyo.
Jenkyns, who was also a founder of the British Chamber of Commerce in Japan, was unsur­pris­ingly enthusiastic about the plan. So, the two men, Ursula and 10 other prominent British business­­people—including Arthur Hawtin, Ann and Peter Liver, Peter Bainbridge and Frank Moorhead—formed a steering committee and set about the laborious process of creating a club from the ground up.
Love for Britain
Imadegawa can trace his interest in British culture—including beer—back to his time as an under­graduate at the University of Tokyo. During the student riots of 1968–69, lecture rooms were often locked, so he spent time in the univer­sity library and started to study English conversation.
Later, through a group of mutual friends, he met Ursula, who is originally from Cardiff but had come to Japan due to her interest in ukiyo-e woodblock prints and batik dyeing. Later, she developed a love for Japanese ceramics while teaching art at the International School of the Sacred Heart in Hiroo.
Married in 1978, the Bartlett-Imadegawas enjoyed Tokyo's social scene, but Yukihiro missed some specialities that he had acquired a taste for during visits to Britain. This triggered the initial postcard to Adrian Jenkyns.
Excited about their new venture, weekends were spent brainstorming just what would be required and where the club might be situated. That research showed a members-only club was the most feasible option to keep prices lower for drinks that needed to be imported from the UK.
An extensive search for the ideal location even­tu­ally took them to a multi-level property to the east of Ebisu Station, before the Yebisu Garden Place complex was developed. The club was on the second floor and the basement level served as a theatre that was available for the club to book. The upper­most floor was an apartment for the owner of the building.
Open for business
The opening party was held in spring 1986—less than 12 months after the idea had first been aired—and was a memorable evening.
"It was a Friday night and we had been there the day before putting the finishing touches to everything, but I had a commitment with some of my students earlier in the evening and I couldn't get there at the start," said Ursula. "But I do recall it being a glorious atmosphere and that it went on until quite late the following morning".
The club was cosy and welcoming, with sofas and easy chairs as well as the traditional require­ments of a pub, such as a dartboard. The kitchen soon earned a firm following for its roast dinners and for being able to cater to major events, such as Christmas parties, charity events and live music performances.
On occasions, British bangers or clotted cream brought in from the UK would find their way onto the menu as a treat.
The national societies of England, Wales, Scotland and Ireland regularly utilised the premises for their functions and national nights, such as the annual St David's Welsh Society, while it also hosted the Eye Mate Charity Christmas concert, involving the British ambassador to Japan at the time, Sir John Whitehead GCMG CVO, and the choral society of the British Embassy Tokyo.
Another popular event was the St Dwynwen's night disco—the Welsh version of St Valentine's—which falls in late January. "We were very proactive about getting the name out and encouraging people to come to the club, but, looking back, it is clear that it did consume us for a while," said Ursula, who recalls serving behind the bar while pregnant with her son, Yoshihiro, who was born in 1986 and is today a solicitor in London. The couple's daughter, Rhyannon, is a journalist for the Nikkei newspaper in London.
At its peak, The Tokyo British Club had about 300 members, including Prince and Princess Takamado and then-British Ambassador to Japan Sir John Boyd KCMG.
Changing times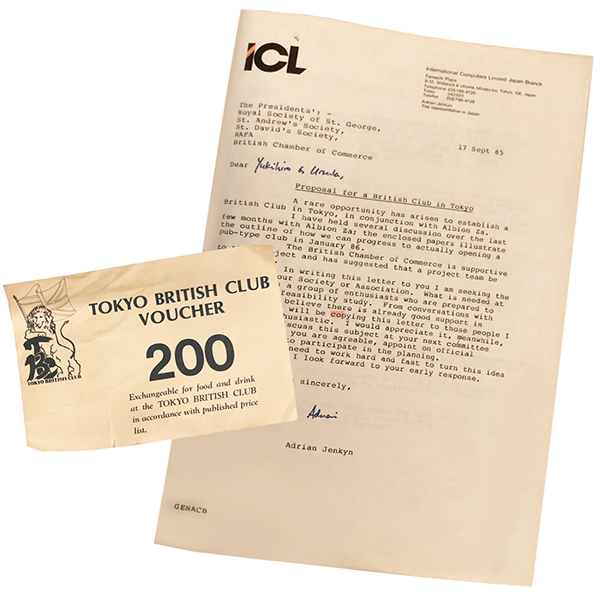 The popularity of the British-style drinking esta­blish­ments that it pioneered in Japan may also, however, have been one of the factors behind its closure. Ebisu, Shibuya and other nearby districts have all seen the arrival of pubs selling Kilkenny, Bass as well as fish and chips, which all ate into the club's uniqueness.
With family life taking up more of their time, the Bartlett-Imadegawas became less involved with day-to-day running of the club. And, when member­ship began to drop off, bills went unpaid for a while and debts replaced profit.
"For the first two or three years, everyone kept a close eye on things and it all went very smoothly," said Yukihiro. "But then, suddenly, the club could not pay its bills and I was asked to step in and han­dle the situation".
Ultimately, Yukihiro had to ask the other gover­nors to chip in to cover the club's debts, and he ended up partially paying off the debt pro rata with his own money.
"It was always very lively, and I do miss the conversations that we had around that bar—even if they were everyday things like our experiences at university or which British television programmes we missed," said Ursula.
"We loved it though, and did and do miss it".