Japan's only English miso-maker runs 106-year-old firm
If you had no idea what Anthony Flenley did for a living, you would probably be able to sniff out his core business within seconds of entering his premises, located a stone's throw from Osaka Dome.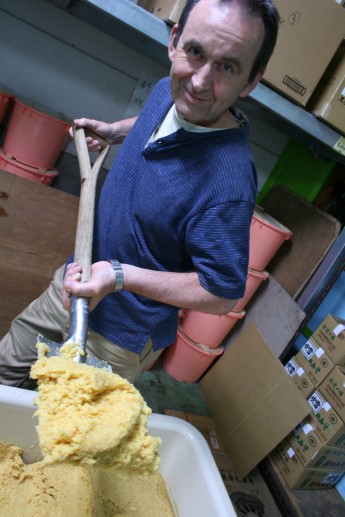 At first there is a slight hint of sake brewery, but the air quickly thickens and sweetens, forming the familiar aroma of fermented soybeans and rice, with added punch provided by koji starter culture: miso. For the past 20 years, Osaka Miso Jozo has been turning out miso pastes and a range of derivative products under the guidance of this 58-year-old Englishman.
That he is managing director of a firm that has survived in the competitive, and hidebound, world of a Japanese cuisine staple surprises no one more than Flenley himself.
After graduating from Swansea University in 1976 with a degree in French, he travelled for a year before arriving in Osaka. A few years of more travel followed, along with a master's degree in the UK and marriage to his wife, Tomoko, before the couple returned to Osaka, home of the miso firm her father's family had run since 1906.
At the time, Flenley had only a fleeting involvement with the family firm, and assumed that he would settle into a university teaching post and a life of long academic holidays. "Then I went out drinking with my father-in-law one evening and he asked me if I was interested in taking over the company", said Flenley. "He had two daughters, and my brother-in-law wasn't interested because he had a career in television".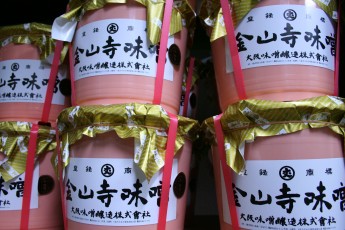 The alcohol-infused backdrop notwithstanding, Flenley didn't need much persuading. "I was beginning to feel uncomfortable about the prospect of a university career. It didn't seem like real life, whereas miso is real life".
The harsher reality for Flenley was that, despite occasionally helping his father-in-law, he knew practically nothing about producing miso.
He brought himself up to speed—and vastly improved his kanji reading ability—by studying the biology of fermentation at a laboratory owned by the maker of koji starter culture, before gaining experience in the same firm's miso factory. He returned to the Osaka Miso Jozo factory in 1990, right at the start of the busy year-end season.
His appointment wasn't without controversy. The firm's then-foreman was under the mistaken impression that Flenley's sudden elevation meant his own job was at risk, and walked out under a cloud after a couple of months.
"I was suddenly in charge, in at the deep end", said Flenley, who laughs at his naivety in thinking he would be able to potter around the factory floor before retiring to the back office.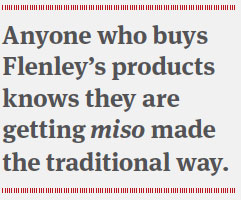 Instead, he and his staff faced gruelling six-day weeks that involved not just producing miso faithful to Jozo's traditional recipes, but also the back-breaking work of handling huge quantities of piping-hot soybeans and rice, and shovelling fermented miso paste from deep wooden barrels, ready to be packed and sent to customers from Hokkaido to Kagoshima.
"My father-in-law was still around, but I did all of the deliveries, got the boiler going early every morning and basically kept the factory ticking over", he told ACUMEN.
Machinery has taken much of the perspiration out of his work, but the early days were unforgiving. "I spent the first two years thinking, 'What the hell am I doing here?' I should have taken the teaching job".
Flenley's efforts paid off. Osaka Miso Jozo is in decent financial health although, like other miso-makers, it is suffering from the shift away from a traditional Japanese diet, and the dominance of cheap, mass-produced brands sold in supermarkets, rather than the artisanal, slightly pricier varieties in which he specialises.
Suppliers to high-end restaurants in locations such as Osaka's Kitashinchi district have remained loyal, and smaller tubs of his signature white and red miso pastes have appeared to appeal to individual customers, along with a range of other miso-based products.
Osaka Miso Jozo products now feature in supermarket campaigns to promote Osaka produce, and were included in Osaka-style bento boxes and a limited range of onigiri, projects that have earned Flenley several television appearances in recent years.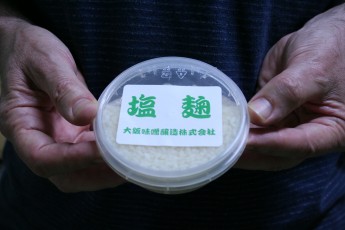 He has become more involved in marketing since his father-in-law died eight years ago. He has downsized his workforce—there are now eight employees—to suit leaner times for the miso business, and leases land once occupied by part of the factory to a car manufacturer.
The challenge now, he says, is to convince more consumers that miso should again be part of their regular diet.
"People are beginning to realise that quality is important. The villains of the peace are the supermarket buyers who can keep prices down. The sellers are not in charge anymore.
"As a result, what you get is a 'dumbing down' of food. If you use cheaper materials you get an inferior product. People are losing their sense of what tastes good."
Anyone who buys Flenley's products knows they are getting miso made the traditional way, according to recipes that go back to the firm's origins 106 years ago.
Changing dietary habits aside, has he noticed any resistance among potential clients to the idea of buying miso made by a firm with a foreign managing director? "I'm sure people have said I haven't quite got the hang of it, but we're using the exact same recipe as before, and every batch of miso tastes exactly the same", he said. "That consistency has to be there.
"As for being a foreigner, I'm past all that".
—
Website: www.osakamiso.com
Blog: http://osakamiso.exblog.jp