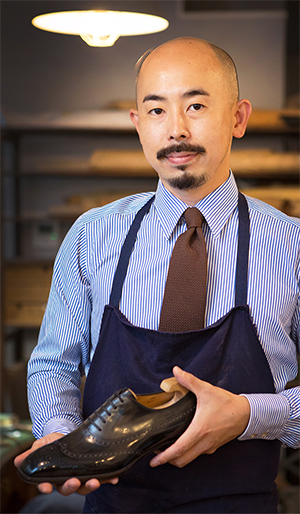 Apair of gentleman's Oxfords on display in the showroom of shoemaker Yohei Fukuda has been burnished to a flawless finish. The leather is a deep, dark red and a swirling design of holes has been punched in the upper leather. The laces are twisted into a perfect bow and a shoe tree ensures the shoes retain their perfect shape.
At least 120 hours of work has gone into hand-crafting this single pair of shoes, a reflection of Fukuda's footwear philosophy. Style, he says, never goes out of fashion.
Unexpected steps
Originally from the coastal city of Toyama, in the Chubu region along the Sea of Japan, 38-year-old Fukuda opened his workshop and showroom in Tokyo's Aoyama district in 2011. He had just completed an apprenticeship at the Tresham Institute in Northampton, the UK's most presti­gious college for aspiring shoe designers and makers, as well as with a number of the British industry's most famous names, including John Lobb, Edward Green and Church's.
Crafting bespoke shoes was not, however, the career he had initially planned.
"When I was in high school in Toyama, I thought it would be a good idea to go abroad to study English. So, instead of going to university, I went to the UK in September 1999", he told BCCJ ACUMEN.
"I was already interested in English traditions and clothing—and my image of England then was of a country of gentlemen—so, I packed my best pair of shoes and my suit", he said.

Inspired by London
Opportunities for Fukuda to wear such formal attire while a student at a private language school in Brighton were few and far between. But, he did make forays to London to purchase more shoes. The reputation of British shoemakers for quality, he said, extends worldwide.
A friend who was interested in studying shoe design invited Fukuda to join him on a visit to the Tresham Institute. On their way back through Northampton, they visited the city's museum, much of which is devoted to the county's historic links to the shoemaking industry.
"Before then, I still was not really interested in going to college to make shoes", Fukuda said. "But then I saw a pair of black Oxfords that had been made in 1910. They were beautiful. I was inspired and thought that, if I became a shoemaker, then I might also be able to make such wonderful shoes".
Fukuda was also partly motivated by an inability to find shoes that fit his own short but broad feet. Becoming a shoemaker, he reasoned, would allow him to make his own bespoke footwear.
The first year at the Tresham Institute included courses that involved everything from cutting patterns to sewing uppers and shaping soles. He then spent a year at local shoe factories putting his new-found skills to the test.
After his studies, Fukuda started to work for world-famous shoemaker George Cleverley. As his skills improved, he began to make shoes for John Lobb, James Taylor & Son and other big names in the bespoke shoe industry.
Coming home
In 2006, Fukuda decided to return to Japan and start his own business. It was clear, however, that bespoke shoes were not in much demand in Toyama Prefecture, so he moved to Tokyo and began working from an apartment. But he lacked business nous and admits that he struggled initially to be recognised. That changed after Fukuda was introduced to the owner of a high-end watch shop who was looking for similarly crafted products to be displayed in his store in Shirokanedai.
Thanks to word-of-mouth recommendations, Fukuda's reputation swiftly grew and he built up a loyal following. His shoes are now available at Isetan department store and he regularly displays at shoe exhibitions around the world. And, one day, he would like to open his own shoe shop in London.
His second ambition, he adds, is to earn a Royal Warrant.
"I am happy every time that I finish a pair of hand-made shoes, of course, but I also cannot help but think how I could have made them better and how I can incorporate that into my next pair", he said. "I can never be completely satisfied with my work. I think that if I was ever satisfied then I would retire".
Fukuda now employs four full-time shoe­makers, producing about eight pairs of bespoke shoes every month as well as an estimated 15 pairs of ready-to-wear shoes. Virtually all components are imported from Britain. The upper leathers and shoe trees come from Northampton, and the sole leather comes from J&FJ Baker & Co Ltd, a leather firm that has been creating oak-bark treated leather in the Devon town of Colyton for 2,000 years.
And the popularity of his work—driven largely by word-of-mouth recommendations—means that first-time customers must wait fully two years from first fitting to delivery. Custom shoes range from ¥300,000 to ¥450,000.
"Shoes, to me, are often a reflection of their owner's character", he said. "A person does not have to wear expensive shoes, but, if you take care of them, they will last a long time. In the same way, a person who cares for friends and family will have long-lasting relationships.
"You can tell a lot about a person from his shoes".
Email info@yoheifukuda.jp