Cult event challenges Japan's notion of British beer
• Four UK firms among 10 craft breweries
• Fans lap up light, dark, strong, weak, weird
• Thirst growing for premium cult beers
The dimly lit dance floor of a nightclub in Tokyo's Shibuya district may not sound like the ideal place for an event promoting the craft of brewing beer.
But the first, tentative sips of a lovingly brewed, hop-heavy beer not only reminded the hundreds of enthusiasts who visited the December Club Axxcis event that there is more to the drink than the insipid, mass-marketed brands that dominate the shelves of convenience stores.
It also sent them on a virtual journey to their drinking venue of choice—in this writer's case, the comforting surroundings of an English country pub.
Organised by Drinks Media Japan—producer of the annual Whisky Live event—and supported by the Japan Beer Times, Hop Revolution gave 10 breweries from Japan and Europe the chance to showcase their beers and tap into Japan's quickly developing taste for craft beer.
Some of the breweries in attendance were already familiar to serious drinkers in Japan: the Shizuoka-based Baird Brewing Company and BrewDog from Aberdeen, Scotland. But there was room, too, for firms that are established at home but have yet to appear in Japan.
The youthful, largely Japanese crowd comprised seasoned beer drinkers and the uninitiated who were curious to discover the differences between common or garden-variety lager and, for example, freshly poured Bracia—the dark, chestnut honey-infused stout from Thornbridge Brewery in Bakewell, Derbyshire.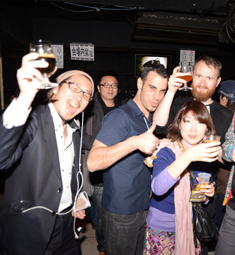 But before glasses met lips, Alex Buchanan, Thornbridge's representative, invited the drinkers to place their hands over the top of their glass, swill the liquid around and breathe in the combination of malt, chocolate and smoke that makes Bracia "the perfect beer for a cold day in England, or Japan". Experts agree: Bracia was awarded a maximum score of 100 points on the Ratebeer ranking website.
The UK was particularly well represented at the event—proof of a renaissance in independent brewing in the home of real ale, according to experts.
Aside from Thornbridge, whose trademark Jaipur IPA was among the beers on offer at the club's bar, the British invasion included Fyne Ales, located at the head of Loch Fyne in Argyll, western Scotland, and Stewart Brewing Ltd, based in Loanhead, near Edinburgh.
Hop Revolution was Thornbridge's first real attempt to sound out the Japanese market. Established seven years ago, the brewery has won numerous awards and is among the leaders of the new wave of independent brewing that has swept the UK in recent years.
Thornbridge exports to the US, Sweden and Canada, and is now setting its sights on Japan. Exports comprise about a fifth of its sales, but Buchanan believes it will soon rise to 25%.
"We sent four of our beers to Japan on a trial basis and the reception was good", said Buchanan. "We've found that people here respond in the same way as those in the UK. They say they don't really like beer, then they try ours and are amazed that beer can taste like this. We make beers that we like to drink ourselves, and I think that's a big part of our success".
Haruka Kanazawa, a brewer at Yo-Ho Brewing Company in Nagano Prefecture—the firm behind the popular Yona Yona Ale—was effusive about Bracia's prospects in Japan. "I think it suits the Japanese palate", Kanazawa said. "I believe [Bracia] will go down well with Japanese women. The alcohol content is high, but the strength is not at all overpowering".
Fyne Ales, another newcomer to Japan, specialises in crisper, lighter beers. Jarl, with an alcohol content of just 3.8%, is followed by a range of bitters, as well as golden and darker ales, that hover below 4.5%. For a bigger punch, Sublime Stout and Superior IPA weigh in at 6.8% and 7.1%, respectively.
Stewart Brewing was on similarly unfamiliar territory in Tokyo but, like Thornbridge, won admirers at the event with its showcase beer, a hop explosion called Radical Road. The brewery did a roaring trade at the bar with three of its trademark ales that included the Cauld Reekie stout.
Launched in 2004 by Steve Stewart and his wife, the award-winning brewery has 15 employees and supplies almost 500 pubs in Scotland. "Our motto has always been to never compromise on quality", Stewart said. "We make the best beer we can and have fun doing something we love".
Stewart was optimistic that Japanese drinkers would be as receptive to his beers as their Scottish counterparts. "It's fantastic here. It's my first time in Japan and I love the enthusiasm for beer here.
"I definitely think there's an appetite for craft beer as people move away from the mainstream and pay more attention to provenance and quality".
While Stewart, Fyne and Thornbridge are on the cusp of a possible foray into Japan, the fourth British brewer represented at Hop Revolution has already built a cult following among the country's beer lovers.
BrewDog started out in 2007 with just two employees; by 2009 its Punk IPA had become the UK's fastest-selling alternative beer brand and the top selling IPA in Scandinavia.
Last year, the brewery employed just under 70 people and produced 26,750 hectolitres of beer.
Disappointment that James Watt, BrewDog's co-founder, was unable to attend Hop Revolution (he was in Scotland arranging the brewery's move to new £7mn premises, north of Aberdeen) was quickly forgotten when Martin Dempster, the firm's head of "special ops", began his talk by praising the brewery's philosophy and invited drinkers to try some samples.
"I love the fruitiness of some of BrewDog's beers; it's a privilege to be able to drink it in Japan", said Masashi Takahashi, a 22-year-old student and regular at the burgeoning collection of brewpubs springing up in Tokyo.
A cheer went up when Dempster unveiled Hoppy Christmas, a seasonal 7.2% beer with "citrus, piny aromas and an intro of tropical fruit".
"The momentum for craft beer in Japan is as strong as it is in the UK", Dempster said. "People here are very excited about our beers".
While Sweden is BrewDog's most lucrative overseas market and Japan accounts for about 5% of its exports—with its beers available in hundreds of Tokyo locations—BrewDog is keen to expand.
"There's a real energy here," Dempster said. "There's a parallel between Japan and the UK. We're trying something different and taking a few risks, but we have a strong brand, logo and mission statement. That resonates at home, and here too".
Takahiro Ito, a supplier of alcoholic drinks whose inventory includes a wide range of craft beer, believes the craft beer wave is a welcome antidote to Japan's toriaezu biiru culture—the idea that beer is merely a thirst-quenching precursor to "proper" alcohol.
"We should be putting beer at the centre of everything, and these beers will definitely help [to do that]", Ito said. "When you drink craft beer, you can taste the care and attention that has gone into making it—the human element, if you like".
Ry Beville, publisher of Japan Beer Times, said the event had challenged preconceptions about British beers among Japanese drinkers.
"I think there's a general image in Japan of British beers being somewhat bland and unexciting with regards to craft beer", he said.
"These brewers have proved to the people [at Hop Revolution] that this idea is absolutely wrong".