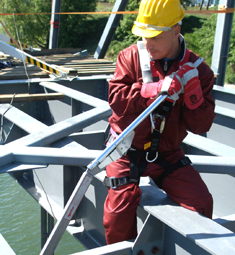 UKTI helps Banbury tool firm build on its long presence here
From the bottom of the world's deepest oceans to aboard the International Space Station, Norbar Torque Tools Ltd. plays a critical role in ensuring that state-of-the-art equipment performs to its full capacity.
The torque equipment manufacturer has been a force in the Japanese market since 1966. The Banbury-based firm is launching a new drive, with the assistance of the UK Trade & Investment (UKTI) team at the British Embassy Tokyo, to further build on its reputation here.
A team of senior executives from Norbar, which prides itself on being "the voice of torque", visited Japan in October to sign a formal distribution agreement with Shinko Boeki Co. Ltd., its long-term partner for the local market.
"The relationship works well in general because [Shinko Boeki] devotes sufficient resources to managing the business effectively and, most importantly, our communications are strong, in both directions", Owen Hillis, manager of Norbar's international division, told BCCJ ACUMEN.
"We try to be culturally sensitive, and they are understanding of us.
"Japan is very important to us, as you would expect for a market and distributor with which we have worked for so long, and I look forward to it becoming even more important in the future", he added.
Established in 1942 as the North Bar Tool Company, the firm became the first British business to commercially manufacture a torque wrench, the tool used to precisely apply a specific torque to a nut or bolt.
Initial demand was driven by the need to accurately tighten the gasketless cylinder heads of the Rolls-Royce Merlin engine—which powered a number of wartime aircraft.
Since then, Norbar has grown into the world's largest torque specialist, with one of the most modern facilities devoted exclusively to the design, development and production of torque tightening and measuring equipment.
Still managed and wholly owned by the family of the founder, Bill Brodey, the firm offers services, on four continents, that include instrument calibration and recalibration to the original factory standard.
As well as its UK headquarters, Norbar has accredited facilities in Adelaide, South Australia; Willoughby, in the US state of Ohio; Shanghai, China; and since 2004, in Singapore, where it opened a laboratory to meet the needs of the firm's Asian customers.
Raising the firm's profile in Japan—where end users include Astro Products and World Import Tools, among others—is part of the organisation's global strategy.
"We will be working closely to support Shinko Boeki as they grow our business", said Hillis. "We have committed that someone from Norbar will visit Japan to support them at least twice per year.
"We are a long-term, family company whose directors and managers value business relationships".
The firm is grateful for all the support and guidance that the embassy team has provided, growing out of the firm's original market research project.
In an initial meeting in London with Matthew Matsumoto-Prouten, who led the embassy team that worked with Norbar, Hillis said: "I quickly formed the view that he 'got it'.
"I have nothing but praise for the job they delivered", he said. "For Norbar Torque Tools, [the collaboration] has proved to be excellent value for money.
"We were so satisfied that we commissioned a further project from [UKTI] and I would not be surprised if we requested more help from them again", he added.
"Outside the direct project level, I find [the UKTI team] so helpful that I always try and schedule an informal courtesy visit to UKTI whenever I'm in Tokyo, as this provides me with the chance to discuss the strategic direction we are taking as well as minor—yet important—matters".
Norbar has several ambitions for its Japanese operations, ranging from significantly growing sales revenue and assisting Shinko Boeki, to entering new industrial sectors, finding new applications and launching new products.
"Ours is too complex a product range to precisely quantify, but I would hope that, in five years' time, our sales in Japan will be significantly larger than they are today", Hillis said.
One area in which the firm is hoping to expand its presence is a throwback to its formative years.
"Perhaps we can work to grow the aviation sector in Japan, if we work hard and enjoy good luck", he said.