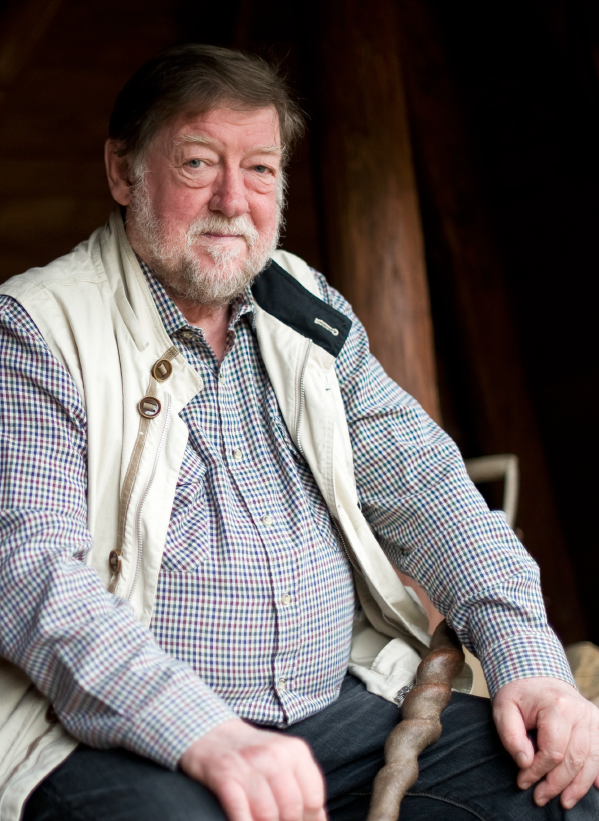 He may be 71 years old, but CW Nicol still gets a twinkle in his eye when he has a new project. And as he outlines his latest scheme—to reintroduce horse logging to Japan's neglected forests—his blue eyes are positively gleaming.
"Logging with a horse causes far less damage than clear-cutting an area of woodland", said Nicol, who was appointed Member of the Order of the British Empire (MBE) in 2005. "In small forests there is no need for incredibly expensive machinery, which requires constant upkeep. We can do pinpoint logging and expand into consulting. We will extract the timber and use it for any number of purposes—from making furniture to firewood—and improve the environment at the same time".
Nicol already has the land to construct the barns and accommodation for a horse trainer, to be brought over from Britain, and can secure the pastureland. He has also identified the breed of horse with which he wants to work: the hardy, steady Percheron. That breed is found working in parts of northern Japan, and he hopes to have the project up and running from his Nagano Prefecture base within three years.
"I started to buy abused and neglected woodland 26 years ago, donating land and money to make the CW Nicol Afan Woodland Trust", he said. "Now we're designated by UNESCO Japan as a heritage site for the future; Prince Charles has visited us, and I've even been summoned to the palace to speak with the Emperor and Empress of Japan."
All of which is a long way from a boyhood in the Welsh town of Neath, where he started to learn judo to keep the school bullies at bay, and developed an interest in Japan. Nicol—who dislikes his first name and prefers everyone to call him Nick—went on his first expedition to the Arctic at the age of 17; came to Japan for the first time in 1962 to study karate and eventually achieved his 5th dan; and was the first game warden of the Simien Mountains National Park, in Ethiopia. All before the age of 30.
He completed two further research trips into the Canadian Arctic, but fell out of love with government bureaucracy and in 1978 returned to the village of Taiji in Wakayama Prefecture.
"I stayed there for one year, researching a novel on the history of Japanese whaling, and I was invited to the Antarctic with the whaling fleet", he said. "I knew I couldn't live in Taiji as, while I'm sympathetic to the history of whaling and whaling for food, I was absolutely horrified by the annual slaughter of the dolphins there".
After being invited to move to Nagano Prefecture, forestry became his passion. In the woods that surround his home in the village of Kurohime, where he has lived for the past 32 years, there are no fewer than 28 endangered species—ranging from flying squirrels to bears and martens—some 137 species of mountain plants, 196 medicinal plants and more than 400 species of fungi.
"Our forest is the first to be twinned with a forestry trust in South Wales, the Afan Argoed Forest Park, and we both face similar problems", said Nicol. "Japan can be, should be and must be self-sufficient in forestry.
"That is linked to water quality and biodiversity and the mental, physical and cultural health of a nation", he emphasises. "Both Britain and Japan went through a phase of planting single-species coniferous woodland, that has since caused numerous problems, but those problems are not insurmountable".
A passionate advocate of tending and caring for Japan's rich forestry heritage, Nicol hopes to see more businesses growing out of the nation's woodlands.
"Forestry is a way of life", he said. "It's not going to make anyone a lot of money, which is maybe why it has become neglected here, but the potential in Japan is fabulous".