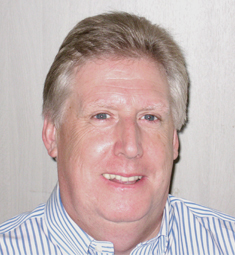 I am delighted to see so many nominations coming in for each of the five categories of the 4th annual British Business Awards. Thewinners will be announced on 4 November at the ANA InterContinental Tokyo. And, in the meantime, the judges are working hard to select the best entrant for each award. The deadline for nominations is 14 October, but reservations to book your seats or table are still open until 24 October (see page 8).
The excitement is building up to the event, the highlight of the chamber year. We have an excellent balance of contemporary artists, superb cuisine and wine with a distinctive British twist. An excellent charity auction for Tohoku will help businesses get back to work, while raconteur Mrs Moneypenny and our own Ambassador David Warren will present the awards.
We also have the Tokyo Pipe Band with Pipe Major Atsushi Yamane concluding the evening before leading us to the MIXX bar on the 36th floor for the after-awards party. Book your tickets now and invite your business contacts to make the most of your marketing budget.
When the going gets tough …
It's a topsy-turvy world—economies going south, weather patterns and natural disasters all over the place. But what is more difficult to establish is whether this has always been the case, or are we just so much better informed these days with the internet and around-the-clock global media coverage?
Lacking global and economic leadership, the stock markets and market makers are showing their displeasure with casino style volatility to try to get someone to step up to the plate and demonstrate the necessary political will to face up to the changes that need to be made, no matter how unpopular they might be.
The elaborate game of global chicken that is going on is good for no one and is not encouraging entrepreneurs and business leaders to take on the extra risk necessary to move the global economy into recovery mode.
So is it all that bad? Are we at Armageddon or in capitulation mode, heading for a double-dip recession and depression?
According to one of Darwin's theories, it is not the strongest who survive, but the most adaptable. That is certainly true in today's business world. So, for example, Uniqlo now reportedly conducts many business meetings in English, has a workday starting at 7am, allows no one to work overtime, and acknowledges that overseas expansion is where the profits are to be found.
Japan needs more entrepreneurs to help it move forward. The opportunities are around, but to capitalise on them requires strong conviction and an ability to embrace cultures. This is where British firms and expertise can help in order to rebuild Japan and work for mutually beneficial success.
The UK has shown that it is open for business and has prospered as a result. These lessons can be shared with Japan. I am pleased to say that the chamber will soon announce details of a workshop for entrepreneurs to share ideas on how to do business here and to persuade Japanese business people that this really is the way to get Japan back on its feet.