The year got off to an excellent start in Anglo–Japanese relations, with a very productive visit to London by Prime Minister Shinzo Abe in January. I flew back to join the meetings.
Getting ready for rugby
To mark the fact that Japan is hosting the Rugby World Cup later this year, Prime Minister Theresa May had invited him to visit Twickenham Stadium, home of English rugby. I accompanied Mrs May as we drove from Number 10 Downing Street to Twickenham to give her a last-minute briefing. The two prime ministers toured a fascinating special exhibition on rugby in Japan, which is currently on display at Twickenham's museum. Then they went to the pitch on a crisp winter morning to meet some schoolchildren, who were there to display their rugby skills.
Japan is very interested in our recent experience hosting both the Rugby World Cup in 2015 and the 2012 Olympic and Paralympic Games. In particular, they are keen to share our thinking on the security aspects of such major inter­national events. Mrs May had arranged a special security briefing, chaired by Home Office Minister Ben Wallace with the head of Scotland Yard, the London Fire Brigade, London Ambulance Service and the National Cyber Security Centre. The Prime Minister spoke with the experience of having been Home Secretary, with overall responsibility for security, during London 2012.
During the visit, Mrs May announced that the government would be mounting a Year of UK in Japan 2019–20, running from the Rugby World Cup to the Olympics and Paralympics, including a cultural season and various great branded initiatives. Back in Tokyo, later in January, I hosted a briefing at my Residence to set out for business and other partners the opportunity to be associated with the event through sponsorships.
Closer ties
The two leaders had a substantial series of discussions over lunch at Twickenham and a summit meeting at 10 Downing Street. It's clear to see that they have an excellent personal chemistry, in addition to the very strong state of bilateral relations between our two countries.
Mr Abe was particularly grateful for the significant uptick in the defence relationship, with three Royal Navy ships having visited Japan last year for joint exercises and enforcement of the UN sanctions on North Korea. We announced that a further warship, the HMS Montrose will be here in the spring.
Naturally, they discussed Brexit. Mrs May briefed Mr Abe on the latest parliamentary discussions and reiterated the UK's intention to remain an excellent base for Japanese investors. Mr Abe reconfirmed Japan's commitment to agreeing a new economic partnership with the UK as we leave the European Union. It will be based on the EU–Japan Economic Partnership Agreement, which has just come into force.
The two leaders identified a number of other areas for strengthening cooperation. There will be a new government-to-government dialogue on infrastructure, an important pillar of Mr Abe's Free and Open Indo-Pacific Strategy. This offers real opportunities to combine the UK's long experience in certain markets in Africa and South-East Asia, and the skills of our consultancy sector, together with Japanese companies' construction strengths and finance.
The leaders committed to further joint work on innovation to address global challenges such as ageing, launching a significant joint programme of research and collaboration that will help people live independently in their own homes for longer, develop new treatments for chronic conditions such as dementia and heart failure, and ensure a cleaner world for future generations.
Oishii British beef and lamb
Mr Abe also confirmed that Japan would be ending the long-standing ban on sales of British beef and lamb to Japan, which dates back to the bovine spongi­form encephalopathy (BSE) problem of the 1990s. This will create opportunities potentially worth more than £120mn over five years, supporting farmers from the valleys of South Wales to the Scottish Highlands. It means that consumers here in Japan will have access to some great, high-quality British meat. I look forward to finding opportunities to put it on the menu for events at the Residence.
Whilst in London, I dropped into Parliament to call on Alistair Carmichael MP. He is the Liberal Democrat member for Orkney and Shetland—the most remote constituency in the UK. Alistair chairs the All-Party Parliamentary Group on the Abolition of the Death Penalty, and is planning a visit to Japan to meet lawmakers and experts.
---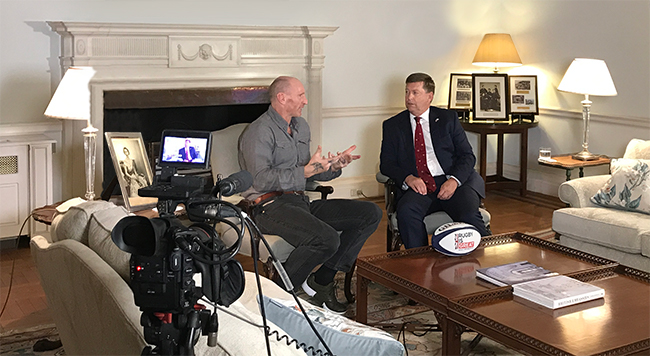 Advice for Welsh rugby fans
I had an enjoyable evening with former Welsh rugby skipper Gareth Thomas, who is one of the country's most capped players. He was at the end of a trip around Japan, visiting venues where Wales will be playing and making a film to introduce fans at home to what is in store for them. He interviewed me in his warm, chatty style as we discussed how much the host cities are looking forward to being in the international spotlight later this year. We also talked about the British Embassy Tokyo's social media consular campaign, introducing aspects of Japan's culture and social norms, aimed at ensuring all visitors have a safe and trouble-free trip.