Eco-friendly ways to survive summer in Japan
Tokyo is not only the biggest city in which I've ever lived, but also one of the hottest. In my native US midwest, the heat and humidity usually settle for one week at a time, only to be chased away by dramatic thunderstorms.
However, the Japanese capital is a beast of a different nature. Here, temperatures begin rising in June and continue to climb until September.
While tomatoes, cucumbers and aubergines favour such temperatures, I do not. As hot winds fill the streets and the sun bores down on the landscape, the following items help me to stay cool, even on the hottest days.
• Furin (wind chime): This traditional Japanese item does more than just take up shelf space in gift shops. Popular here since the 1400s, the distinctive sound of the wind chime signifies a breeze, providing psychological relief from the heat and makes one feel cooler with each tinkle and flutter of the decorative wind-catching paper.
• Kakigori: This popular shaved ice dessert is another summer treat. Standard fare at summer festivals and park food stalls, the crushed ice slush puppy is topped with flavoured syrup and, often, condensed milk. It seems to lower the temperature with every crunch and slurp.
• Sensu (folding fans) and uchiwa (rigid fans): Japanese inventions dating back to the 6th century, these portable air conditioners are particularly useful and can be kept in bags or pockets. Often created with beautiful designs and patterns, a lazy swoosh of a broad-faced uchiwa gives momentary respite from the heat.
• Mosquito coils: These won't lower the temperature, but will keep you mentally cool when mosquitoes are around. Another Japanese invention, mosquito coils are typically made from pyrethrum—a natural powder derived from the dried flowers of certain chrysanthemums. Burning slowly, the coils ensure a long, peaceful, mosquito-free evening.
• Head north: Tohoku and Hokkaido are regions of Japan with distinct landscapes, culinary specialties and cultural offerings. While enjoying cooler temperatures, you can appreciate life outside the metropolis. Consider going on a hike, visiting an onsen (hot spring), exploring by bicycle, or simply enjoying a good bowl of ramen (noodles in broth).
• Hanabi (fireworks): The bright colours and patterns flashing across the sky entertain, distract and ease the day's heat. Many Tokyo neighbourhoods offer displays of their own that are almost as grand as that held on the banks of the Sumida River, which is one of the city's main fireworks events. Take a mosquito coil and an uchiwa to enjoy an evening of community fun.
• Setsuden (saving electricity): As the afternoon sun heats up the city, head to a local coffee shop or library. These public spaces are pleasantly air-conditioned, full of tasty treats and usually are quiet enough for working, reading—or even napping.
• Mountains and parks: If a trip to Hokkaido or Tohoku isn't on the cards, then simply head outside. Any nearby mountains will offer shade, hiking and, often, swimming. Enjoy the seasonal blooms at a local park and settle in a shady spot with a breeze and a good vantage point for watching the clouds float by. Take a picnic to turn it into a mini getaway.
Please e-mail info (at) ecotwaza.com quoting BCCJ ACUMEN for all information and orders, and to receive bonus points.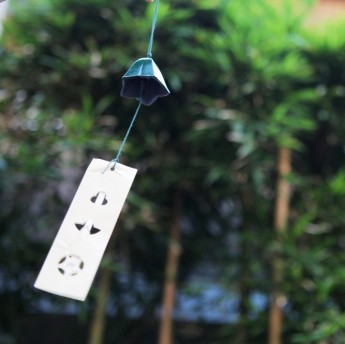 Furin (wind chimes) have been popular here since the 1400s.