Industry changes attract youth and return riders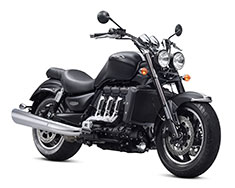 Kazuo Noda may not have the high profile and advertising budgets of his biggest international competitors, but in the Triumph range of motorcycles he knows that his product leaves the opposition in the dust when it comes to engineering, technology and sheer riding enjoyment.
The biggest regret for the new president of Triumph Motorcycles Japan, who will assume the post on 1 November, is that today, fewer Japanese are buying motorbikes.
"The 1980s were the heyday for motorcycles in Japan, but then about 20 years ago, strong opposition to the bike culture suddenly emerged", he told BCCJ ACUMEN. "There was a movement which set out to stop young people buying a bike, claiming they were dangerous or only driven by bosozoku street hoods. And people blindly believed it".
That anti-biking sentiment has faded away over recent years, in part because the Japanese government realised that it was doing a great deal of damage to a domestic industry that earns significant tax revenues from sales in the sector, both at home and abroad. But, there have been other distractions for potential buyers.
"[There was a time when] young people were more interested in mobile phones, games and the virtual world, and I think that was a pity", said Noda.
"But nowadays I think that is changing slightly, possibly because people have spent too much time in virtual worlds, and they have become aware they need to be more in the real world, to feel again".
At the Tokyo Motorcycle Show 2015, held at the Tokyo Big Sight convention centre in March, Noda sensed a change in the wind.
"It used to be that the people who attended would be motorcycle fanatics all done up in their leathers, but this year there were more young people in casual wear admiring the bikes, and that has to be a good sign for us", he added.
The recovery is still slow, however, and total sales today are just one-third of that in their peak years.
Despite Japan being synonymous with brands such as Suzuki, Yamaha and Kawasaki, there is still a significant portion of the bike-buying public that is looking for something more than a mass-produced clone.
Many fall for the cliché that is the Harley-Davidson, while others opt for the German engineering of a BMW or the romance of a Ducatti—but Noda says the newest Triumph to arrive on these shores "already has the competition worried".
And so they should be.
The Triumph Rocket III is equipped with a massive 2.3l engine—it looks as if the engineers have shoehorned an aircraft engine beneath the fuel tank—and a large, flared exhaust. This beast has the biggest engine displacement of any mass-produced motorcycle in the world, and can hurtle from standing to 100kph in an eye-watering 2.8 seconds.
"We have actually been selling the bike for six years already, but the Japanese government altered the emission regulations, so we could not sell them here", said Noda. "These bikes have excellent emission standards and they're accepted throughout Europe, but Japan wanted to be different".
With that hurdle now overcome, all 50 of the bikes that are being imported have been snapped up in pre-orders or through dealers at Triumph's network of 41 shops across Japan. And the ¥2.5mn price tag has not put off anyone, Noda said.
In all, Triumph Motorcycles Japan has imported no fewer than six new lines this year, with a limited edition of the Bonneville—arguably the bike for which the firm is most famous—coming soon as well.
The Street Triple is also turning heads on Tokyo's streets, in part because of the three-cylinder "triple" engine and the fact that Tom Cruise rides one in his latest movie, Edge of Tomorrow, adapted from the Japanese novel All You Need is Kill.
"I would say that the average Triumph buyer is between the ages of 48 and 55", said Noda. "Ninety-five percent are middle-income men with a keen interest in motorcycles".
But, unlike people who buy the US's most famous bike brand, the Triumph rider is "a gentleman, very much in the British mould. He's well-educated, has good manners, and appreciates the workmanship that has gone into a high-quality product.
"These are people who are not influenced by other people's opinions, and they know the difference in quality and performance that is in a Triumph", Noda added.
One sector of the buying public is "return riders", who had a bike in their youth but gave it up when they got married, and are returning to a two-wheeled form of transport now that they are in their 50s or 60s.
Triumph sells 1,600 units a year in Japan, although Noda agreed that there has been a downturn in sales since the increase in the consumption tax rate on 1 April. Still, that is an impressive sales figure for a firm that was officially extinct as recently as 1983.
Originally based in Coventry, the Triumph Cycle Co. Ltd., was set up by German immigrant Siegfried Bettmann in 1886. The firm branched out into motorcycles in 1902, and was turning out 1,000 units a month at a purpose-built plant in 1907.
Business boomed throughout the years of World War I and into the 1920s, but the firm was hit hard by the Great Depression. In World War II, production was shifted to the West Midlands and, once the conflict was over, Triumph increasingly looked overseas for markets.
When Marlon Brando sat astride a 1950 6T Thunderbird in The Wild One, the bike gained iconic status. In 1959, Triumph controlled 50% of the US market for bikes over 500cc in size, but the firm was unable to keep up with technological advances, primarily in Japanese firms.
The firm went into receivership in 1983, but the name was bought by millionaire motorcycle enthusiast John Bloor OBE.
Production at the Hinckley factory in Leicestershire was initially very limited before the first new series of bikes in 1991. It ranged from 750cc and 900cc triple cylinder units to 1,200cc four-cylinder bikes.
The reborn firm has not looked back since.