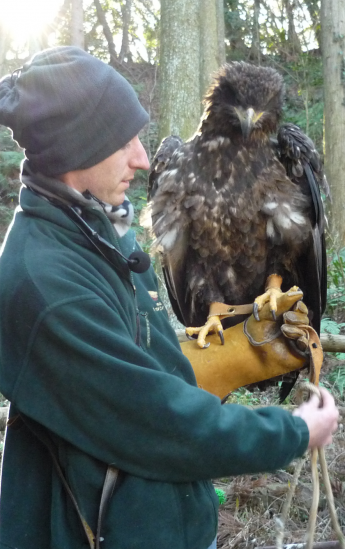 Visitors flock to innovative Brit challenging Japan's treatment of birds
Gary Dyer has a chance encounter with one of Japan's leading botanists to thank for his current job as a birdkeeper at Kobe Kachoen, a popular bird and flower park located on the city's Port Island.
After studying at an agricultural college in Hartpury, Gloucestershire, Dyer worked as a curator at the International Centre for Birds of Prey in nearby Newent. He was the only member of staff present when the owner of the Kachoen group, Mototeru Kamo, happened to visit.
Dyer's first visit to Japan, to do a traineeship in Tochigi Prefecture in 2000, had ended ingloriously after he came down with appendicitis soon after he arrived, and returned to the UK to undergo surgery.
After a brief conversation, his visitor in Newent appeared impressed with Dyer's knowledge of birds and interest in Japan, and quickly opened the door to a job here. "He more or less offered me a job the same day", Dyer told ACUMEN. "A couple of days later he returned, and it was made official".
Dyer returned to Japan in 2005 to work in Kamo's park in Kakegawa, Shizuoka Prefecture, where he taught staff how to handle new birds, including bald eagles, impressing his employers so much that he ended up in charge of all the park's feathered inhabitants. "My job is described as falconry", he explains, "But in reality is it much more varied than that".
After his success in introducing variation and excitement to bird shows at Kakegawa, Dyer was asked to repeat the feat in Kobe, where visitor numbers had dropped sharply in the wake of the 2009 swine flu pandemic.
"At the time the shows revolved around just two owls," Dyer said, adding that there was little interaction between the birds and visitors. Before long, he had added toucans, hawks, falcons, penguins and other species to the lineup: "We had more variety, and did our best to make it interesting and funny".
Now, the birds used in Kachoen's three daily shows appear from behind an on-stage wall—another Dyer innovation—before swooping down over and in between members of the audience. "We try to get the birds to fly and behave in different ways to keep people interested", he said.
As a result, the number of visitors to Kobe Kachoen has risen since he began working there full-time, just over a year ago. Dyer quickly became aware of different perceptions in the UK and Japan about the use of animals as entertainers.
"Bird shows are popular in the UK, but they're called demonstrations there because of attitudes towards animal rights", he said. "Here, I try to train the birds to do in front of people what they would normally do in the natural world. I can't stand monkey shows, for example, although the Japanese seem to like that sort of thing".
Dyer's concern for his hundreds of feathered charges sometimes places him at odds with his colleagues and the Japanese authorities.
Too many of the birds at Kachoen are kept in aviaries positioned at ground level, for example—an anomaly he is keen to correct as soon as possible. Kachoen's lone vulture, meanwhile, must remain tethered behind a glass and mesh screen—an unnecessary precaution that clearly irritates Dyer as he takes ACUMEN on a tour of the park.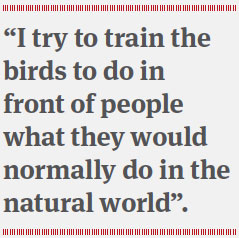 In addition, he has yet to get permission to use bald eagles in his show. The birds are classed as dangerous animals by the Hyogo prefectural authorities and, for now, can only be used for photo opportunities with visitors.
"That is ridiculous", said Dyer. "One of the bald eagles at Kakegawa was trained to fly loose and never caused any problems. We're doing this in stages, using the photo opportunities to prove that they are perfectly safe and fit to use in the shows".
Bureaucratic obstacles aside, Dyer is happy to be among people who clearly enjoy the opportunity to feed and touch a vast array of birds, from waddling penguins to owls, a perennial favourite.
"The customers here are appreciative of what we're trying to do", he said. "You can tell they're really enjoying themselves. The whole idea at Kachoen is to get the birds as close to the people as possible".
Kobe is one of four Kachoen parks founded by Kamo, a celebrated botanist and collector. The others are in Fuji, Matsue and Kakegawa, where Dyer worked previously. He now works alongside about 16 other bird specialists, while the Kobe park as a whole employs about 60 people.
When ACUMEN met him, Dyer, 31, and his Japanese wife were expecting their second child, a baby brother for their two-year-old daughter. For the time being, he sees his future in Japan, completing his mission to make Kachoen's birds even more accessible to the public.
"Working with the birds every day is easily the best part of this job", he said. "They are all different, and working with them … you learn a lot about their character. In some ways, they're like humans—they have good and bad moods"