Tokyo agency ushered in UK scribes
The list of authors The English Agency Japan has represented is long and impressive. They range from JG Ballard, Kazuo Ishiguro and Ian McEwan to Nick Hornby, John Updike, Ian Rankin and Ed McBain. Chuck in David Peace, Noam Chomsky, Bill Bryson and Bill Clinton and it's clear that an outfit born in a poky, one-room office in Nishi-azabu back in August 1979 has come a long way.
The driving force behind the creation of the firm was the late William Miller, who had an impressive career as a publisher in London with Panther, Granada and Quarto. He teamed up with Peter Thompson and Junzo Sawa to create an agency that in its earliest days found it hard to get a foot in the door in Japan.
"There was a feeling back then that, compared with the content coming into Japan from the US, British content was under-represented and under-sold here", said Sawa, a director of the firm at the age of 65.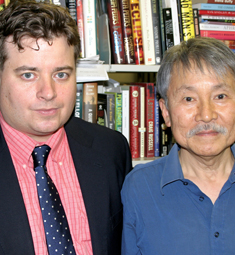 "But when we first started, it was a closed shop on the Japanese side", he said. "There were only two agencies at that time and Japanese publishers asked us why they needed a third".
With a publishing house's income reliant on royalties—which invariably take many months to come through—Sawa says "enthusiasm and hard work were the key".
Hamish Macaskill, the managing director, believes his colleague is playing down the amount of sheer effort that went into making the fledgling company a viable concern.
"A lot of it really was down to Junzo", he said. "It was his job to elbow his way into a closed market. He knocked on a lot of doors; it took some time, but it was that bravery that was the key to establishing the agency".
The firm added to its reputation by providing both sides of the arrangement exactly what they sought: Japanese firms benefitted from transparency, while the agency strived to keep lines of communication open with its foreign clients.
Miller, who was born in Kent in 1934 of Scottish parents, retired as managing director in 2003 but continued working as a literary agent until shortly before his death in November 2009.
The English Agency continues the work its founders started, selling translation rights to Japanese publishers on behalf of foreign firms, representing Japanese publishers and authors living in Japan in the sale of their projects to overseas publishers, and licensing electronic, film, television and internet streaming rights in Japan and abroad.
The firm has seven full-time agents specialising in literary and entertainment fiction, general non-fiction, academic and serious non-fiction titles, children's books, business works, as well as spiritual and self-help titles.
Macaskill estimates the agency sells the rights to as many as 80 books every month, a level that has been steady for the past decade or so, but says there have been clear shifts during that time in what is popular.
"When personal computers first came out there was a massive market for 'how to' books on PCs, but now there are few", he said. "Japanese authors are taking on more business self-help books, while also getting very good at literary fiction and mystery books".
Cooking books by foreign chefs do not sell in Japan because they have enough home-grown chefs turning out titles, although there is a solid market for topical non-fiction, popular science, politics, philosophy and neuroscience.
"The Japanese market can be very difficult, but we have had a very good year as we have had some big sales and a number of best sellers", said Macaskill.
Popular works have included Justice, by Michael Sandel, a professor of government at Harvard University. His philosophy on public policy has struck a chord in Confucian countries, Macaskill believes.
Kazuo Ishiguro has also been a big seller, along with British author Tom Rob Smith (Child 44) and RD Wingfield whose novels chart the tale of Inspector Frost.
There are, however, challenges to the industry, admits Macaskill.
"People are spending less time reading, instead checking for emails on their mobile phones and communicating with friends electronically", he said. "But it's still hard to beat a book—they're durable, tactile and simply a hard product to beat".