Soji Shimada, best-selling author and the creator of his very own genre of murder-mystery in Japanese literature, has very British sources of inspiration.
When he plays the guitar, his muses are The Beatles and Eric Clapton; when he writes, they are Jerome K Jerome and Hector Hugh Munro, better known by the pen name Saki. But, above all, when he is crafting a new novel, a constant companion is Sir Arthur Conan Doyle's investigator, Sherlock Holmes.
"I could not single out one person as being a source of inspiration in the early part of my career, but I have always been fond of British authors", Shimada told BCCJ ACUMEN. "Conan Doyle and Jerome K Jerome, but Saki especially; I find myself trying to imitate his style of writing".
Saki's witty and mischievous short stories satirised Edwardian society and culture, and his work influenced the playwright Noel Coward and author P G Wodehouse. Saki was killed in November 1916, during World War I.
Aside from the "impossible murder" novels, for which he has been bestowed the title of Japan's "God of Mystery", 67-year-old Shimada enjoys writing similarly satirical pieces.
"I am just finishing a new novel and it's a parody with Sherlock Holmes as the main character", he said. "It's actually a love story about Dr Watson.
"A regular reader of Sherlock Holmes mysteries will be aware that he injects a solution of 7% cocaine three times every day", Shimada pointed out. "For that sort of drug dependency, he should be hospitalised. I realised that Dr Watson would have to be hiding his cocaine problem, and I re-read the books with that in mind—and found parts where you can really see Holmes' symptoms".
In one book, for example, a snake is described as slithering down a hanging rope and subsequently climbing back up the same rope.
"I'm a huge fan of Sherlock Holmes, but in this new book I let myself laugh at some of the descriptions and situations, which I think can be seen as cocaine illusions, such as the time a snake drinks milk and is attracted by sounds. A snake won't drink milk and it cannot hear; it senses through vibrations.
"So these descriptions are nonsense and I make fun of them in Fifteen New Fried Rats", he said, adding that there is a meaning behind the title of his newest work that becomes clear in the book.
Yet despite poking holes in Conan Doyle's plotlines, Shimada has been hugely influenced by arguably the greatest detective in the history of fiction.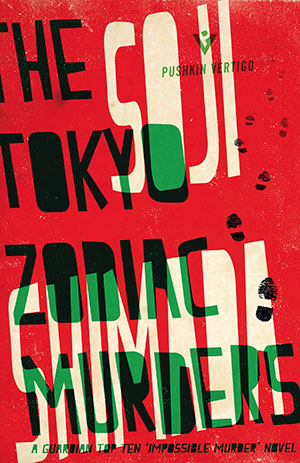 "There was a time when I read Sherlock Holmes stories every day, and I watched the films and the TV series", he said. "Those books made me think about writing mystery novels. In the passages in The Tokyo Zodiac Murders where it looks like I'm criticising Sherlock Holmes, really I'm just joking through the character of Kiyoshi Mitarai".
A new translation of Shimada's debut novel was released by Pushkin Vertigo in September 2015, with the mystery as fresh today as when the book was first published in 1981.
"The book has a huge trick in the middle, and that has kept it popular", he said. "It was my first book, so I wrote it without much experience or technique, but I knew it worked because of the trick in the middle".
The ingenious twist came to Shimada when he was watching the evening news in 1978 and he saw a report on how criminals were thinly slicing ¥10,000 notes and taping them together so that 20 were being turned into 21. They were slightly smaller, but this was difficult to detect with a cursory glance.
To explain any further, however, would reveal the entire plot of the award-winning book.
The twist was so stunning that Northern Irish crime novelist, Adrian McKinty, put it in second place on his all-time list of best "locked-room mysteries" in an interview with The Guardian.
"When he put it in the top 10 of his favourite mystery novels ahead of people like Agatha Christie and Ellery Queen, I thought he had to be joking", Shimada said.
That article, from January 2014, raised the book's profile with a foreign readership even higher, and there are suggestions that another of his best-selling works, The Crime at the Crooked Mansion, will also undergo a new translation and be re-published.
While Shimada said that would be great because he "still wants to become more famous and sell more books", his real ambition remains to meet Paul McCartney and play If I Fell with him.