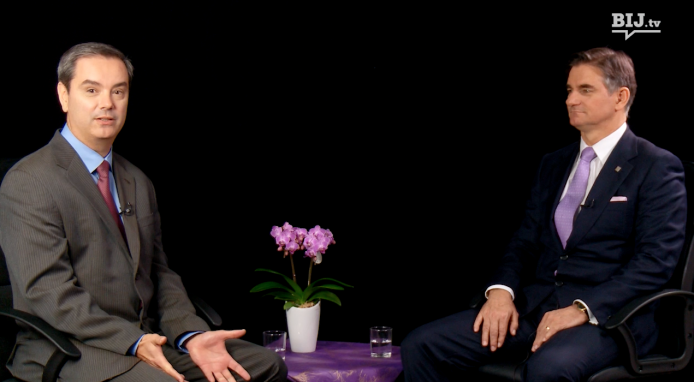 Experts shoot short, simple and direct messages
Seen a good video lately? If you are like most corporate executives, you probably have. Chances are you've viewed YouTube to catch up on industry trends or best practises.
Or maybe you have seen a speech or product demonstration on a work-related website. Perhaps you've even entertained colleagues by watching South Korean singer Psy dance Gangnam style.
For various reasons, video has become an essential part of doing business today. It is accessible, portable and ubiquitous, and can be found everywhere from desktop computers and smartphones, to tablet computers and other portable handheld devices.
Next time you travel by train, you are likely to sit next to somebody viewing something on their mobile phone.
Senior executives are also using video extensively. According to a recent Forbes Insight survey of more than 300 high-level executives, video has become a crucial source of information.
Three-quarters of respondents watch work-related videos at least once a week, while more than half view videos weekly on YouTube.
Senior executives told Forbes that they watch various types of work-related videos: business news reports, business insights and expert advice, speeches, presentations and panel discussions, case studies, product reviews, demonstrations, how-to content and customer testimonials.
The average length of the videos watched by respondents: between three and five minutes.
More than half the senior executives said that they share work-related videos with colleagues every week, while nearly half said they post links to videos on networking sites weekly.
So it is clear that if you are not using video, you are behind the curve.
With videos being so popular and useful, many executives have become video producers. Studies suggest that more than one third upload their own videos to YouTube every week.
Many firms also use in-house public relations or communications staff to create video content. Some enterprises such as Nissan Motor Co., Ltd. have separate video divisions to manage the content themselves.
However, there are dangers to "doing it yourself". Poorly produced videos featuring sloppy camerawork, bad lighting and lengthy, rambling interviews can damage a firm's corporate image.
Your firm works hard to produce a top-quality product; why represent that product—or your brand—in an amateur way?
When it comes to video, one should go with those who produce compelling video presentations for a living; professionals who know that interesting content requires more than just turning on a camera.
Professional video producers know that lighting, framing, editing and on-screen graphics are key to making videos stand out.
Former UK Prime Minister Winston Churchill, a communicator of some note, might well have been talking about video when he said: "A vocabulary of simplicity will be of service throughout your life".
Steve Jobs, the late media pioneer and founder of Apple Inc. was also a big fan of video, and once said: "Simplicity is the ultimate sophistication".
Jobs was a master at creating presentations—and products—that were easily understood by the widest possible audiences.
His explanations were short, simple and direct, and never went over the heads of viewers. That should be the goal of any video producer.
Unfortunately, most amateur productions go down the opposite road. How often have you seen a video of someone rambling through a speech or failing to make a point?
Long-winded orators are boring in person and on camera; videos that lack focus are unwatchable.
Video professionals know that if you want people to pay attention, you need to limit a production to a single theme. This theme can be explored in-depth, but viewers will not be able to follow a video that strays too far from the theme.
Attention spans are limited and, with so many video topics out there, unfocused productions will get lost. Professional video producers don't allow subjects to ramble on and drive viewers away.
As previously mentioned, almost anyone can handle a video camera. But how many amateur video producers know about framing and lighting?
"Photography" means "painting with light". Yet this is an area sorely neglected by amateur video producers.
It is not enough to turn on an overhead fluorescent light and begin shooting. One needs to take time to set up high and low-key lights, softboxes and other sources of illumination that lend subtlety and sophistication to a video production.
Videos shot without regard for light make subjects look lifeless and backgrounds drab. Video professionals know this and take great pride in lighting their subjects properly.
Framing is another aspect that makes professional videos stand out. A subject needs to be front-and-centre, and positioned in front of a background that enhances, rather than detracts from, the subject. Amateur videos often feature interview subjects that are too small and insignificant, sending out subtle messages about trust and credibility.
Wardrobe is another consideration in a professional video. Striped suits and ties can create an on-camera effect known as moire, where the lights create a distracting strobe effect giving a rippled finish. Dark suits also get lost in dark backgrounds.
How about make-up? This is generally neglected in amateur videos. Professional producers know that slight touch-ups are necessary to make interview subjects come alive.
Thus, video content is a way for any firm to reach new customers, clients or partners. Video can also be vital in building a corporate brand.
So why leave it to the amateurs? Let the professionals capture you at your best.