As competitive pressures increase and supply chains become increasingly global and complex, efficient and proactive supply-chain management has been transformed from an operations and back-office concern to a factor critical to business success. Throughout 2011, the logistics industry in Japan has been impacted by the continued emergence of the Asian region as a key growth area, as well as the disasters that occurred earlier in the year. As a result, we have seen a number of changes in the skills that employers are looking for in supply-chain professionals.
As Asia continues to establish itself as the world's leading economic area, key trading partners such as China are having a strong influence on the logistics industry here. China is growing as a major export destination for Japan, with the demand for high-end tech goods and electrical equipment increasing in line with the rising disposable income of Chinese consumers. For employers hiring supply-chain staff here, this is translating to increased demand for professionals with regional experience, particularly China.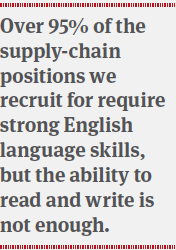 The growing wealth of Chinese and Indians is also positively impacting the electronics and telecommunications industry in Japan. The exploding demand for Smartphones in Asia is leading to an exponential rise in the number of data networks, forcing telecom providers to upgrade networks faster.
Many telecom infrastructure firms we work with have seen increases of up to 30% in headcount, with the strongest demand seen for technical engineers and supply-chain and logistics professionals. These positions typically require strong technical skills in the areas of electrical and electronics engineering. We anticipate that any softening in consumer demand from the US and Europe will be more than compensated for by the growth in markets such as China and India.
Strong, consistent demand from international markets has helped many logistics firms recover from the impacts of the 11 March earthquake and tsunami. Although exports were badly affected in the immediate aftermath, many businesses were able to recover quickly by redirecting goods to unaffected ports and we have since seen a dramatic increase in hiring activity within this sector. For some major firms that provide third-party logistics services, demand is up 10–15% for professionals who can manage warehousing projects and distribution services, along with labour management.
The energy industry has also evolved as a result of the natural disasters, with greater interest shown in alternative sources. This shift has already increased hiring activity in some of the international alternative energy, fuel-efficient, automotive-related firms looking to challenge the dominant position held by large Japanese firms in these industries. Recruitment activity is largely focused on sales and engineering positions; however, we expect this to create demand for international import, logistics and procurement specialists. As new energy sources are explored, demand will increase for international professionals with expertise in alternative forms of energy which cannot currently be found in Japan.
To mitigate the impact of future disruptions, a growing number of firms are looking to diversify their supply chain. To make sure that new suppliers are operating at the required high technical standards, quality management and analysis professionals are also in growing demand, particularly in the automotive, equipment and heavy-machinery industries. We have seen a 20% increase year on year in team-leader and manager-level positions, with a specific requirement for professionals with Six Sigma and Lean manufacturing certification.
Although a number of new factors are influencing supply-chain recruitment in Japan, the critical shortage of English-speaking professionals continues to be the most significant challenge facing employers. Over 95% of the supply-chain positions we recruit for require strong English language skills, but the ability to read and write is not enough. Candidates must also be able to speak English fluently to communicate with teams and management overseas. As more supplier bases move to other parts of Asia, the demand is also escalating for Mandarin and Korean speakers. These language skills are particularly sought after for purchasing roles, where fluency is crucial for strong negotiating positions with international suppliers and partners.
Many firms recognise that the difference between success and failure in business often lies in the effectiveness of their supply chain. As we look to the new year, competition for the best supply-chain talent will continue to intensify as businesses in Japan adapt to both domestic and global forces, such as the ongoing influence of key growth economies such as China and the increased need for business continuity planning following the March earthquake.
To successfully secure top supply-chain talent, employers need to have compelling attraction strategies in place that heavily promote the stability of their firm and the opportunity for career growth. The most talented professionals will only consider moving to firms with a strong employer brand, who can offer challenging positions and long-term career progression opportunities.