Open approach helping smooth transition
Since 1 February, I have been shadowing and learning from our incumbent Executive Director Ian de Stains in the lead up to his departure on 31 March. Following nearly 25 years of dedicated service and commitment to the membership, Ian's retirement naturally presents the organisation with a significant challenge, but also with the opportunity to learn and grow in new directions.
Thanks to our president and the Executive Committee, a structured transition has been designed to ensure that the process is working successfully for everyone involved. After spending almost a quarter of a century shaping the organisation, Ian is motivated to make sure that the transition is a favourable one.
Ian and I are spending a lot of time walking through the duties of the position in the office, at meetings and at public events. There has been an ongoing round of introductions and meetings with key contacts—embassy representatives, Executive Committee members, the British Council team and others from foreign chambers of commerce, to name just a few. I have had the opportunity to meet BCCJ members from a variety of industries and backgrounds, at official functions and one-on-one, finding out what they need and expect from the BCCJ.
The transition period is beneficial in that it allows me time to ask questions, take stock of past and present events and initiatives, and find out what has worked well and what not so well—and why. I am also continuously absorbing operational details, looking at our business processes and where they came from, and considering how these processes might look in the future. All of this would be so much more of a challenge without the dedicated support of Operations Manager Sanae Samata. She is simply wonderful and her contribution to the handover, and to the Chamber, is priceless.
During March, I will continue to work closely with Ian and Samata-san, while taking on a more active role in the organisation—leading with public communication, setting the agenda for meetings, and working directly with our Executive Committee to develop our strategy for the coming year. Many changes will be building on what has gone before—"evolution" as opposed to "revolution"; others will take the Chamber into new and uncharted territory. These are truly exciting times.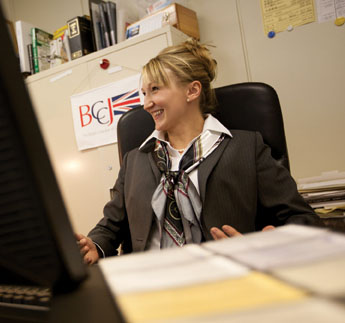 Since the transition began, there are certain things that have evolved organically. For example, my background in digital and social media means I have been given the freedom to explore the options for the BCCJ's online presence. From day one, with the blessing of Ian and the Executive Committee, I have been assessing our current systems and platforms, and mapping out our options for new channels of communication that include a Facebook presence.
Another example of this organic growth is that, guided by Executive Committee Member Tony Grundy, I have begun working directly with our CSR partners, Hands On Tokyo (HOT), on our new 3R—Reduce, Reuse, Recycle—project. Tony was responsible for driving the initiative during Ian's illness at the end of last year, so it seemed natural that he and I should form a working party early in my tenure. From the beginning of February, I have been in daily communication with the HOT team, forging links with our donating hotel partners and planning the logistics of the 3R project that was launched successfully on 15 February.
At the time of writing, there are still a number of things to be covered on the handover agenda—embassy relations, dealing with the European Business Council in Japan, official events communication, and so on. But the carefully planned and generous tone of the transition to date leaves me in no doubt that the process will be completed in its entirety by the end of March.
I cannot thank Ian, the Executive Committee and Samata-san enough for their open and progressive approach to the transition. I am thrilled to have the luxury of a two-month handover, during which I can take time to appreciate the importance of what has gone before, while casting an eye to the future.
Throughout the handover, it has been clear that Ian and I have at least one vital thing in common: commitment to delivering value to the BCCJ membership. I feel privileged to be serving you, our members, and I am very much looking forward to exploring new and exciting territory with you during 2011 and beyond.