Cambridge-based AstraZeneca PLC has been at the forefront of news during the coronavirus pandemic for its advances in the search for a vaccine—as well as its caution to ensure safety—and its strengths have garnered the attention of the Japanese government. The biopharmaceutical firm, named Company of the Year in 2018 and 2019 at the British Chamber of Commerce in Japan (BCCJ) British Business Awards, is not only leading the way in development of treatments for Covid-19 but also in corporate social responsibility (CSR). ACUMEN sat down with AstraZeneca Japan President Stefan Woxström to learn more about the firm's commitment to healthcare, innovation and sustainability in Japan.
How must healthcare evolve?
For me, there are two components: society and technology, and how these are changing at the same time. If you look at Japan, it's a fast-ageing—also called super-ageing—society, where you will have more elderly and fewer workers in the future. And we also know that the elderly population is consuming more healthcare resources compared with younger people.
That's a big challenge, but there are also oppor­tunities to use new technologies and innova­tions for healthcare. We can't focus only on our products; we need to focus on helping Japanese health­care to evolve. I think we've already started doing that with the launch of a new corporate strategy in which we are focusing less on what we have to sell—our medicines—and instead more on patient needs. That is guiding us in the right direction.
We're also finding new opportunities to use technology. To give you one example, we're supporting the government by monitoring the Covid-19 patients at one of the hotels in Tokyo. It's only the milder patients, of course, but it is quite time consuming for the government to put a lot of people there. We had quite nice technology to monitor those patients remotely and have provided that assistance.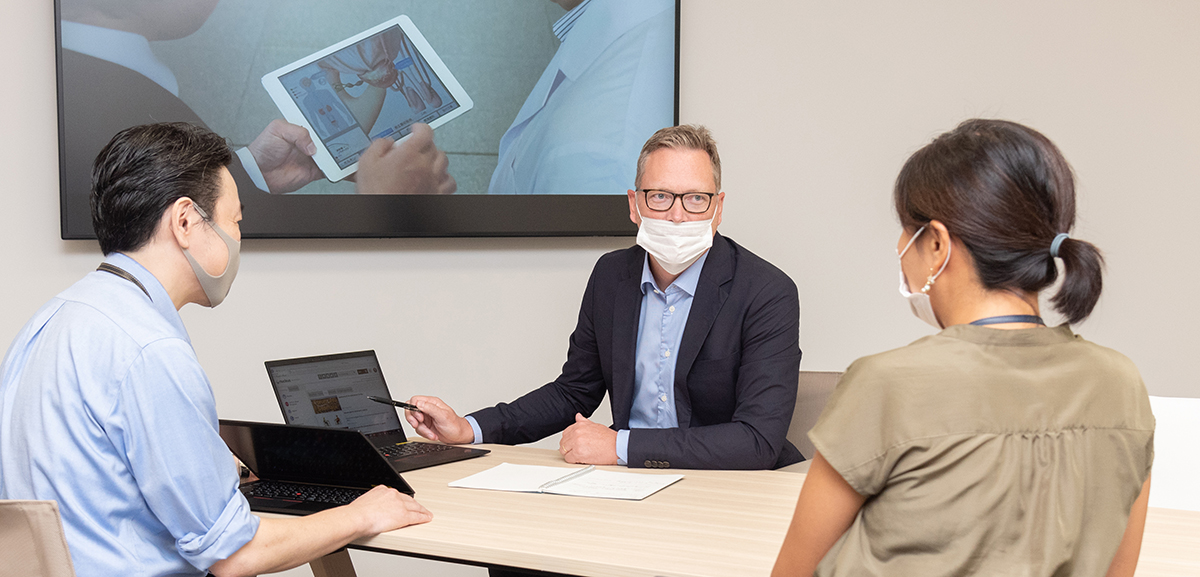 What are AstraZeneca's contributions in Japan?
Number one is establishing breakthrough therapies in lung cancer, ovarian cancer and severe asthma, to name just a few. We have evolved in that area and are collaborating with several prefectures to analyse data to see how it can be used to make decisions on treatments. We feel that we can contribute with a lot of new treatments and establish new standards of care in Japan.
We have also changed our vision and aim to become the number-one pioneer to improve the lives of Japanese patients through innovation. That's our new vision.
To ensure that everyone on the team really under­stands this, we gathered the whole firm—3,300 employees—in one place last November. We rented the football stadium in Kobe and brought everyone together to launch this strategy. We wanted everyone to understand where we are going. It was a full day, and we also had tablets that each person could use to contribute ideas. I was thinking that, with 3,300 employees, if everyone had three ideas, we would get 10,000. But we gathered 28,000. Imagine the value of so many ideas. It's enormous.
What next steps does Japan need to take?
The Japanese government is building towards Society 5.0, which is also called the super smart society, and connected patients could be a part of that. Maintaining the access to healthcare that we have today while making it more efficient is important. This access is a key reason why people live long lives in Japan. We need to keep that, but the system must be more efficient to take care of everyone.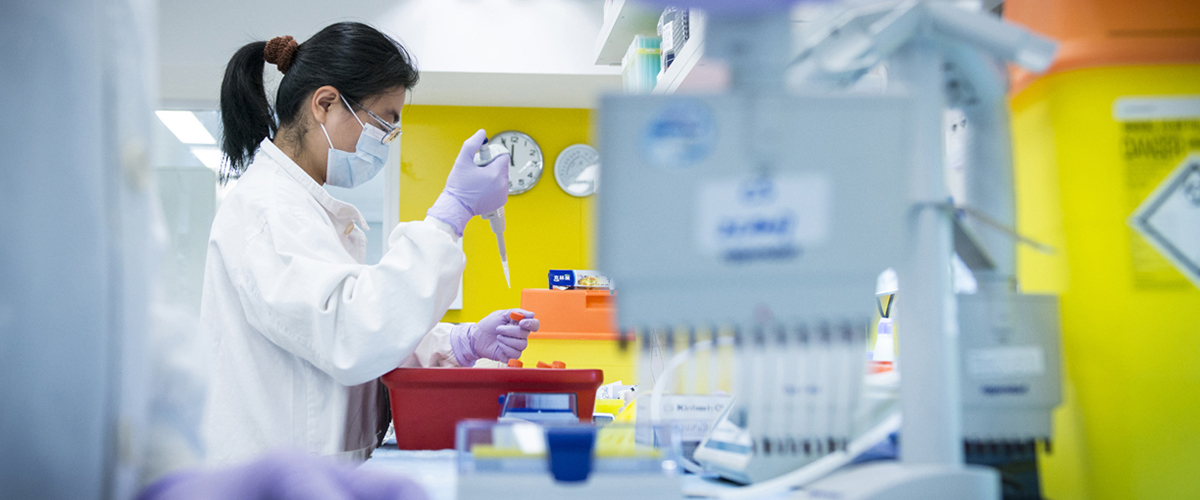 Why choose AstraZeneca for a Covid-19 vaccine?
That's a good question. Why would anyone want to work with us? What makes us believe we can create the vaccine? The University of Oxford chose to work with AstraZeneca, and I think the reason is that we can really accelerate and drive development of new medicines. That's key experience that we have. We also have the capability to scale up manufacturing very quickly, which is needed in this case, and to drive broad, equitable access to the vaccine across the globe. That's something we absolutely can do and is one of our core competencies.
How is the development progressing?
We're talking about what the requirements will be for the regulatory process, as well as carrying out the development process and trials in Japan. This is key to making sure that we can provide a safe and effective vaccine to Japanese patients. That's number one.
The next step is manufacturing. We're trying to do most of the manufacturing in Japan—drug substance and filling, as well as delivery—because we want that capability to be available in Japan, and we don't want to be dependent on regulations and other things that could occur outside the country when you start shipping substances and things across the globe. That's going to be very important for us, to be sure that we can do this inside Japan.
Why do you feel CSR is important?
CSR is very important. And because it is so impor­tant we want to be more specific, so we have renamed it in the firm. We call it sustaina­bility, and we have divided that into three parts:
Access to healthcare
Environment
Ethics and transparency
We want to make sure that we can be very clear and deliver on each of these.
I think the ethics and transparency aspect is self-explanatory, but, looking at the others, access to healthcare is very important. We have launched a very tangible thing called the Zero Yen programme. For cancer patients, every day counts. When you have a new cancer medicine and it is approved by regulators, it then takes 60–90 days before you have a price and patients can get access to it. During that period, we have the Zero Yen programme through which we can provide the medicine free of charge so that patients can access it immediately when there are no other alternative treatment options.
We also want to be very specific about the environment, so, in January, at the World Economic Forum in Davos, our CEO launched a new strategy called Ambition Zero Carbon. We're going to be carbon neutral by 2025. On top of that, by 2030, we're going to be carbon negative. This means we need to absorb more carbon than we emit. That is a very nice challenge, but it calls for a sense of urgency. How do you become carbon neutral in five years?
We're taking a lot of initiatives in that direction. First of all, you need to analyse where you are, what kind of carbon footprint you have, and then you need to address it. We are going to try to reduce our carbon output as much as possible up to 2025. What we can't reduce, we will offset, and our plan is to do that by planting trees, which is absolutely possible.
How do you achieve all this?
We need to change as a firm. We start with the fact that everyone needs to know where we're going. That's why we gather everyone, so each member of the team can be immersed in our vision and our strategy. How can you contribute if you don't know the strategy?
The other question is, How do you enable people to innovate every day? Speaking up is so important. Firms can only innovate when people can speak up. When you really release all the ideas that you have in all your employees, this is when you can move as a firm. If innovation and thinking only come from—or is recognised from—a few people, it doesn't work.
Everyone has something important to say, and that's why I encourage each person to speak up if they have an idea. You should be able to share that idea, and have it listened to, regardless of who's in the room. It can't be blocked by a manager or someone higher up. Rank, tenure, these things should not get in the way of releasing—or at least telling people about—your ideas.
That is very important if you are to achieve this mindset. The whole firm needs to change. That's why we also have removed all offices for everyone. I don't have an office. I go sit in open space next to anyone. I don't have an addressed seat. So, when I sit next to people who I might not have met before—or don't know so much—we always chitchat about what we're going to do over the weekend, how life is going and such. That tears down barriers between people so they understand that we're all human beings, we're all the same.