For 43 years, I served my country to help foster strong international relations—a rewarding journey that would ultimately lead me to appreciate first-hand the strong bond between Britain and Japan.
After joining the Ministry of Foreign Affairs of Japan in 1976, I did my overseas study at Harvard University and then served at embassies in Moscow, Washington, DC, Jakarta and London. From June 2016 to November 2019, I had the honour of being posted to London. It was my first and only ambassa­dor­ship and was the pinnacle of my diplo­ma­tic life. I retired from govern­ment service in December 2019 and am thankful that I could end my career in the UK.
Learning London
Prior to my posting, I had no experience of the UK. I had to learn everything from scratch. Diplomats like to discover the unknowns, and the UK provided me with the last challenge in my final duty.
Because I had trained in the United States and had worked with US counterparts throughout my career, I assumed I could communicate smoothly with the British. I discovered this was not the case. While Americans are mostly straightforward, the British way has more sophistication, and you must learn it to communicate effectively.
Soon after the Brexit referendum, I was invited to lunch by a trading house that has been doing business in China and Japan for a long time. An elderly gentleman hosted me to an excellent lunch in one of the firm's executive dining rooms. When the conversation moved to Brexit, I said that many Japanese firms operating in the UK have invested at the invitation of the British government, that the UK is the gateway to Europe and that their businesses depend on free access to the European market. Because of this, they feel betrayed by Brexit. He was visibly disturbed and said, "Never say betrayal, that's too strong a word".
Diplomats are expected to be polite and never offend. I had proved that I was not a diplomat, even after having been one for 40 years. I realised that I had to learn the British way of communication to continue conversing with British people.
After a few months in London, I realised that the style of communication is similar to that found in Kyoto. There is a famous way in which Kyotoites ask a guest to leave when they have overstayed. The host will say, "Would you like some hot water?" No tea is offered. The offer of hot water means the host doesn't intend to have you any longer. You are expected to get the message and leave immediately. I was raised in Tokyo and am not good at this, so I had to learn the British way. Kyoto and the UK—England in particular—have much in common.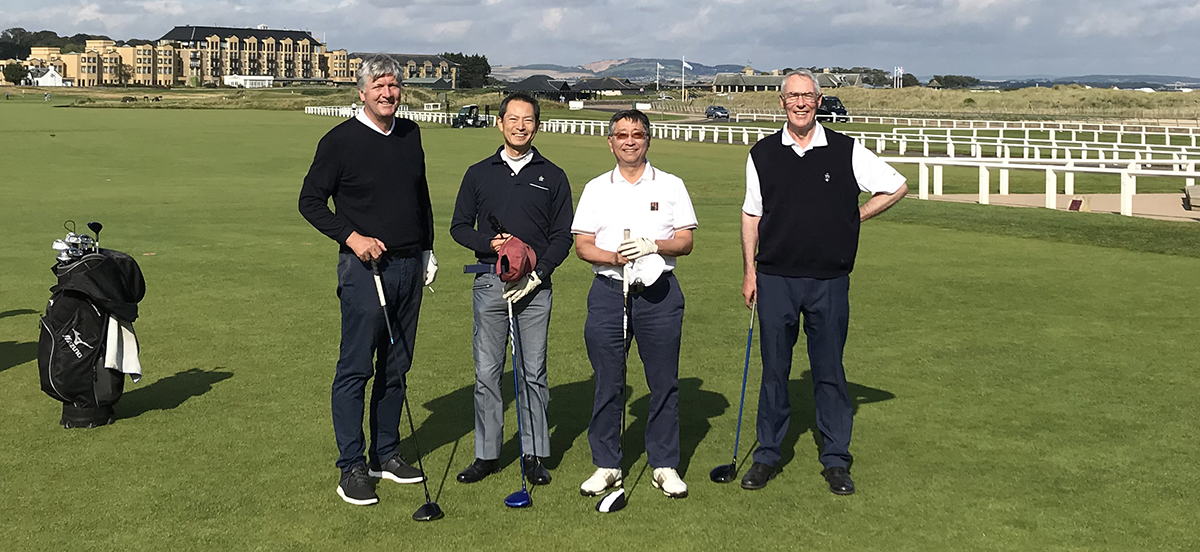 A matter of dress
Britain is a country that respects tradition and ceremonies. Dress code is strictly observed, especially for royal functions. A few times a year, ambassadors are invited to Buckingham Palace for official functions.
The dress code for the Christmas banquet is white tie with decorations, which is the highest formal attire for official ceremonies. The only exception allowed is national dress. Japanese ladies are famous for wearing colourful kimono and it would be inappropriate for them to wear a Western-style evening dress or gown.
But what men should wear is not so simple. Japanese men no longer wear men's kimono, and they may not even have one. The challenge of wearing white tie Western style is the decora­tions you are expected to wear. There are customary rules for wearing decorations: you may always wear your country's decorations and you may also wear decora­tions bestowed by the host of the event, but you are not to wear other decorations.
For example, if you have served as ambassador in a kingdom, such as Sweden or the Netherlands, you are likely to have been awarded a decoration; but you cannot wear it at Buckingham Palace.
As I do not have decorations from Japan, the UK or anywhere else, it was difficult for me to wear Western-style white tie. One reason is that, when the dress code is white tie, the Palace staff are also dressed in white tie but the serving staff don't wear decorations. Like me, they probably don't have any. If I, being Asian, wore white tie then the guests would take me as a serving staff and ask for a glass of sparkling wine. I would not be able to serve them, as I don't know where I could find one.
To avoid embarrassing the guests and myself, I had to wear men's kimono. I wore the same kimono at my presentation of credentials to the Queen, and I later found out that I am the only Ambassador to do so—at least in modern times. My successor wore a morning coat.
The year after I wore kimono, the Buckingham Palace banquet had many Ambassadors in national dress. I was told that I encouraged the trend.
Diplomatic links
Golf is my favourite pastime. You must walk the 18 holes, up and down, and burn the calories you have gained attending lunches and dinners. The Japanese community in London regularly meets over golf, and it is an effective forum in which to discuss any issue.
The Japanese addiction to golf is longstanding, but there were times when Japanese golfers were not allowed to play in the UK. Yet, even in the most restrictive times, there was a private club that kept its doors open to them: the Maidenhead Golf Club, near Heathrow Airport.
This historical club, which was founded in 1896, has a well-maintained 18-hole course and has always welcomed Japanese golfers. It encountered financial difficulty in the past and the Nippon Club made substantial donations to help business continue.
Maidenhead Golf Club hosts several events each year to which the Japanese community is invited, and I participated in all these to show my gratitude for the strong friendship the club has sustained with the community over many years. I enjoyed competing with the Club Captain and professionals, and I was able to score a win over them with my Japanese partner—the first victory by the Japanese side in a long time.
Although Maidenhead is a lovely club, it is not a prestigious one. The British Ambassador to Japan is offered honorary membership at a number of presti­gious golf clubs in Tokyo. Being in London, I made it my objective to become an honorary member of a prestigious golf club.
One of the most prestigious is Sunningdale Golf Club near Windsor. It was created in 1900, has two fantastic championship courses and—most importantly—is very exclusive: members only. I became friends with some members at social occasions and asked them to help me obtain an honorary membership. It took a while but, finally, in September 2019, after playing with the Captain, I was admitted. This is the greatest achievement of my private life in London. A few days after, I was told my term in the UK would soon end. What a pity!
Building bonds
My last years as a diplomat were indeed most satisfying, and I am deeply grateful to the British people who welcomed me to the UK.
As this is not the appropriate place to look back on my professional work in London, I have written about my personal life during my term. I hope readers do not misunderstand this to mean that all I did in London was socialise and play golf.
I would like to close by confirming that I enjoyed my professional life very much, and I hope that I was able to bring our two countries closer together. Japan and the UK are friends bound by common demo­cratic principles, a market economy, the rule of law and respect for human rights—things that can only be maintained and strengthened by promoting rule-based international order. The world is facing unprece­dented challenges, and the Japan–UK collabo­ra­tion is indispensable—not only for our countries, but for the world as a whole.