Novel video campaigns catch eyes of the world
Objectives: to raise awareness and emphasise importance of product
YouTube views: 7.5mn as of 17 February
Theatrical effects used for maximum impact
I&S BBDO Inc., an award-winning Tokyo-based advertising agency, has produced two online commercials that yielded great success for its clients.
The first was produced for Autoway, Ltd., a mail-order tyre firm.
The client's objectives for the media campaign included raising brand awareness by highlighting the danger of car accidents caused by driving without snow tyres, and stressing the importance of such tyres by presenting a ghastly image of a snowy road.
BBDO J WEST, Inc., a subsidiary of I&S BBDO, produced a video that had received 7.5mn views on YouTube as of 17 February.
The 40-second commercial had been seen in 220 countries, with comments written in several dozen languages, within a month of its release.
Covered by international media such as The Independent, The Telegraph and The Huffington Post, the chilling video includes the image of Yuki Onna, the Snow Woman, an iconic figure in Japanese folklore.
The online presentation begins with a health warning about the shocking images that the video contains. Basically, the intended message is that snowy roads are scary because a vehicle's brakes can malfunction and easily cause an accident.
This, in turn, calls attention to the need to change over to snow tyres in winter.
To maximise impact with a limited budget, the team analysed theatrical effects that resonate with viewers psychologically.
Campaign impact:
Shared on Facebook/Twitter over 230,000 times
Ranked third on the Unruly Viral Video Chart
Introduced on Japanese media such as Nippon TV's Sukkiri, TV Asahi's Wide! Scramble and FUJI Television's NONSTOP!
www.youtube.com/watch?v=jGFWEoCGhi8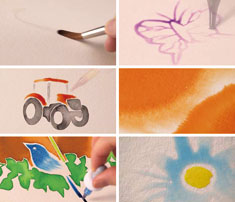 Colour your world
The second campaign of note last year was made for Osaka-based KUBOTA Corporation, an agricultural machinery manufacturer.
KUBOTA emphasises the relationship between food, water and the environment, and the impact of these forces on human lives.
Specifically, the firm contributes products that help the abundant and stable production of food, help supply and restore reliable water, and help create a comfortable living environment.
The advertising agency created a striking corporate video that KUBOTA released in conjunction with a TV commercial. "Water Line" shows the evolution of a watercoloured landscape painting, and has deep meanings intended to reach the international psyche of KUBOTA's client base.
In it, water is drawn with a paintbrush to represent KUBOTA's activities. Using droppers, colours are then added to the lines and fill in the shape of animals, trees and farm vehicles, representing the reach of the firm's services.
The video is now published on KUBOTA's website and Facebook page, as well as its dedicated YouTube channel.
"The success of both projects shows how creative, interesting and appropriate content can attract a global audience for our clients", said a spokesperson for I&S BBDO.