The Greater Tokyo area is a global economic juggernaut, with the kind of productivity, output and innovation that puts many countries to shame.
One of the key centres has long been Kawasaki City. Not only has the area made vital contributions to Japan's economic development, it now stands to play an integral role in bringing the Japanese economy firmly into the 21st century.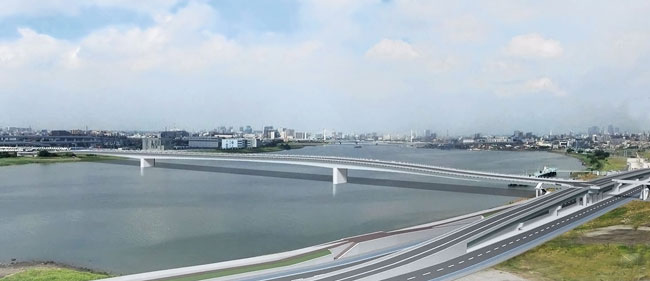 At the heart of this economic development is the Kawasaki Innovation Gateway at King SkyFront, on the other side of the Tama River from Tokyo International Airport, Haneda.
Historically, Kawasaki was a centre for Japanese industry, powering the post-war boom that made the country the economic giant that it is today. During that time, workers from across the nation would flock to the city, secure in the knowledge that there were plenty of jobs to be found.
But, as with so many inner-city industrial areas around the world, Kawasaki eventually fell on hard times. Much to the alarm of local bodies, residents and the national government, it became a symbol of changing economic times.
King SkyFront represents a renaissance and rejuvenation of this proud area, pushing the Japanese economy forward just as Kawasaki City once did.
As a sign of the national government's commitment to the project and the area, Kanagawa Prefecture was designated an International Strategic Zone by the Japanese government in 2011.
As part of this, Daiwa House is leading the Tonomachi Project—the scheme's working title—in King SkyFront, which aims to be a global hub for advances and innovation in the fields of life sciences and environmental protection.
Ultimately, that means achieving the creation of a healthy society and a sustainable world economy by leveraging the world-leading connectivity offered by King SkyFront's location and the presence of major Japanese and multinational firms in the complex.
Making a difference
The development of the Tonomachi Project in King SkyFront marks a slight departure for Daiwa House, which until now has been focused on real estate and housing.
This project, nonetheless, sees them using their experience in construction and tenancy management, but this time in the service of new kinds of firms.
The firm has adapted to and learned from the needs of the different kinds of stakeholders involved in the King SkyFront project.
Such shifts aren't so common for Japanese firms, but the motivation for this shift has been the looming challenges that Japan faces—both an appreciation of the commercial opportunities that these present, as well as a sense of social responsibility.
In particular, Daiwa House has been keen to contribute solutions to the problems raised by the country's ageing society, and it is something the firm has previously tried to address through the designs used in its residential properties.
"For housing, we try to build things that are barrier-free", said Keitaro Takebayashi, general manager, Tokyo Head Branch, General Construction Division, Daiwa House Industry. "But this is not enough, because society is moving quickly in this ageing direction.
"Nearly 27% of the Japanese population is now over 65, and this number is projected to rise above 40% by 2060. This means that they need medicine, they need healthcare", he continued. "And at the same time, the working population is getting smaller".
But Daiwa House has recognised that it is difficult to overcome all of these challenges on its own.
The firm understands the importance of—and is capable of creating—a place to support firms that have the skills and expertise to meet these challenges, and will help them collaborate.
"Daiwa House believes that covering life sciences and robotics is important [in addressing the ageing population]. The Tonomachi Project was a place for firms with those specialisations to come and work", said Takebayashi. "That is the reason we decided to be involved with this project".
The firms working at King SkyFront have already begun to make advances in pressing areas. Alzheimer's disease, for example, is predicted to have a profound global impact as other countries begin to reach the levels of elderly people seen in Japan. At King SkyFront, new treatments are being developed and tested.
Then there are Johnson & Johnson, the American pharmaceutical and medical devices multinational; Scottish Development International; and Cyberdyne, a Japanese robotics and technology firm in King SkyFront.
What's in store
The Tonomachi Project in King SkyFront comprises around six buildings. One will be a hotel and the remainder will be devoted to research.
As of February 2017, space for new tenants remains; but the buildings are already filling up quickly—one is already at 90% occupancy—and King SkyFront has attracted a range of prestigious international and Japanese firms and organisations.
Such firms inevitably have high requirements when it comes to facilities, and Daiwa House has risen to the challenge, ensuring that the buildings can accommodate the requirements of their research.
"This is the first time that we are dealing with research concerning cells and animals, for example", said Takebayashi, "so we have to be sensitive about matters such as temperature, humidity, air purity—those things are very new to us".
But the Tonomachi Project in King SkyFront isn't just intended to be home to large firms—instead, Daiwa House is seeking to achieve a combination of startups and businesses with greater capital, staff numbers and research capabilities to achieve the kind of dynamic and innovative environment that has typified Kawasaki City's recent history.
"Fifty-fifty or 60–40 would be a good ratio between big firms and startups", stated Takebayashi. "These larger firms will be the 'blood' of our business, and this will in turn be able to support startups, because these smaller firms need support. And also, [as tenants] those startups are more likely to change".
As a centre for innovation, King SkyFront embodies other key aspects found in technology hubs around the world. For example, Silicon Valley's success is heavily linked to the universities and institutes that are in close proximity. To that end, Daiwa House has invited several universities to participate in the Tonomachi Project.
But innovation isn't just about tenants, and Daiwa House has put a lot of thought into making the physical environment as conducive to interactions and spontaneity as possible.
"We did not put a fence or a wall between the buildings for the Tonomachi Project", explained Takebayashi. "Instead, we are planning to open it up—particularly to the park and the plaza—so these are places for everyone to mingle".
This approach also extends to the wide range of amenities available in the project, which will allow for comfortable and informal social interactions, as well as official company events.
Key to this will be the aforementioned hotel, which will act as a key hub for such events. With a trendy industrial design that riffs on Kawasaki City's heritage, the building will naturally become a focal point for life in King SkyFront—for work, rest and play.
"This is a place for when you have a day off, or when you are going to communicate with other people", said Takebayashi.
"We will host farmers' markets, barbeques, workshops and other community events. There will even be workshops for young mothers and their children to learn yoga".
Other measures taken by Daiwa House are simply designed to improve the quality of life for those working there. A running and cycling track inside the hotel area, for example, will provide an opportunity for people to unwind and stay in shape. And, of course, happy, healthy workers are more productive, too.
"Daiwa House isn't a venture capital firm, but we are creating the environment for startups to thrive", explained Takebayashi.
Making connections
One of King SkyFront's main advantages is its proximity to Haneda Airport—hence the sky reference in the area's name.
As the airport takes on more and more international flights, King SkyFront will become ever more connected to an international network of business, science and research. And Kawasaki City is working to make that access even easier by building a bridge over the Tama River to cut travel times between the airport and King SkyFront.
The route will also be serviced by a shuttle bus, enabling visitors to reach King SkyFront from Haneda Airport in less than five minutes.
"Because it is so close to Haneda Airport, King SkyFront will act as a showroom and flagship for the life sciences in Japan", said Takebayashi. "We also hope that those who see this place and want to create something similar in their own country will call upon the experience of Daiwa House".
Looking further ahead, King SkyFront is well-positioned to take advantage of Japan's burgeoning health tourism sector, with patients from surrounding countries such as China and the Philippines easily within reach. While the focus is very much on research and innovation for now, health tourism is nonetheless a tantalising prospect.
"Future tenants are expected to include big health firms and hospitals, and they are thinking about health tourism", said Takebayashi. "But this is not something we have pursued yet, although there have been some enquiries". For now, Daiwa House is focused on the area's larger goal.
"We hope that the Tonomachi Project and Kawasaki City will prosper as a global gateway to the world by leveraging its proximity to Haneda Airport", Takebayashi concluded.
---


General Construction Division
Tokyo Head Branch
13-1, Iidabashi 3-chome, Chiyoda-ku
Tokyo 102-8112 Japan
www.daiwahouse.co.jp/English/index.html