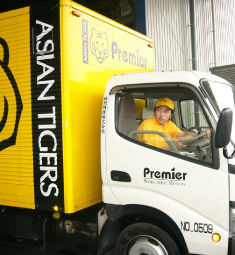 Partly obscured by the sound of tannoys announcing flight departures, the message over the phone was terse and to the point: the key to the house was under the mat, and the relocation team should let themselves in, pack everything and send it to the family's home overseas. When the removal firm arrived there, the dining table was covered with the remains of a meal and pretty much the only things missing were the family's passports.
After several years of gradually declining demand for the services of international relocation and removal firms in Japan, the events of 11 March caused a spike in the number of expatriate families moving out of Japan. And while some have returned, others have only come back long enough to put their affairs in order before completing the switch to back home or elsewhere.
Closely tied to Japan's importance to the global economy, the expatriate community here is arguably in a state of flux, making the future of the relocation industry difficult to predict. But there are grounds for optimism, most firms believe.
"There certainly has been a decrease in the number of families we have seen coming to Tokyo, and I would put that figure at about 30% compared with the number of inbounds last year", said Martin Giles, a spokesman for Yokohama-based Phoenix Transport Japan.
Phoenix, a family firm set up 26 years ago to meet the need for high-quality, world-wide moving services, has similarly noticed an approximately 15% increase in the number of foreign residents leaving Japan this summer.
"We have noticed that, in some cases, the employed expatriate will continue working and living in Japan, whilst the spouse and children return home", he said. "It's imperative that firms maintain their company culture in the workplace, so expatriates will always have a place in multinational firms and their subsidiaries".
Although there was an initial hold on assignments to Tokyo, those are starting to resume, Giles said, but whether the number of expats will return to previous levels probably only will be clear at year end.
"Honestly speaking, this is the first time in my 13 years in the industry that I have found the year ahead a little difficult to read", said Giles. "For the moving industry in Japan, I believe it's going to remain quieter than usual as regards sales levels, but I believe that we will see industry improvements in processes and methods, as moving companies face tougher competition for business and do their best to improve and impress the smaller customer base.
"This will be good news for the customer, though, as they can look forward to higher levels of service", he added. "As opposed to cutting services and quality, we are more interested in adding value for our customers".
Firms in this sector perform a broad range of services, often including a comprehensive end-to-end service, to or from anywhere in the world, that covers everything from move management to help with visas and immigration, the search for housing, renting furniture, looking for schools, cultural and orientation services, as well as storage facilities. Some firms even arrange for language training, spouse programmes and domestic helpers.
Asian Tigers Mobility, another of the mainstay relocation firms operating in Japan, has reported similar changes in the pattern of its business, according to Andrew Olea, the firm's director of sales and marketing here, adding that the roots of the decline can be traced back further than 11 March.
"The whole foreign market has shrunk since the Lehman shock and the financial crisis of the last two years—with outbound traffic about double that inbound, whereas in stable years they are about even", he said. "Since 11 March, the outbound ratio has increased further".
Today, those coming to Japan tend to be single and younger, or individuals with previous Japan experience and more familiarity with the reality of the situation here, he said, adding that the strength of the yen makes everything more costly for foreign firms—including the actual move.
The result has been a shift in the number of firms that don't want their regional headquarters or hub in Tokyo. Instead, Asian Tigers' recent moves indicate firms are sending people to Hong Kong or Singapore, with mainland China—Shanghai or Beijing—the third most popular destination.
Outbound numbers have been high—Olea says it has probably been the firm's busiest summer ever—particularly with German and French nationals leaving because of concern about the situation at the Fukushima Dai-Ichi Nuclear Power Plant. Another sector noticeably keen to depart has been long-term residents, many of whom have been here for 20 years or more but have finally decided that, after Lehman and the financial crisis, topped with the 11 March disasters, now is the time to go.
Not only has there been greater demand from people wishing to depart these shores, but far fewer enquiries have been received from incoming expats.
"We are expecting a very challenging time for the next couple of years, competing for a much smaller total market here in Japan. This is due to the reluctance of people and companies to come to Japan, or to send people here until the nuclear situation is officially declared over, and the affected areas are completely safe and stable", said Olea. "The whole 11 March situation has made people aware of the dangers of, and Japan's proneness to, earthquakes. That alone is enough to dissuade many".
Yet he remains cautiously optimistic about the future.
"Japan will continue to be an important country in the world and companies will have to have a presence here, so it will remain a major expat posting", he added. "It may never return to the expatriate numbers and big dollar packages of pre-Lehman shock days—but there will still be an expatriate presence here that may be stronger and more committed than before, albeit on a smaller scale".
Joe Webber, of Santa Fe Relocations, agrees that the relocation industry is going through a period of change, but points out that history suggests it is more of a temporary phenomenon.
"Our business is cyclical and has dealt with many large crisis situations over the years", said Webber. "The market will stabilise and recover, with the general economic recovery determining the strength and timing of that improvement.
Santa Fe, with 30 full-time staff in Japan, provides a complete array of relocation services for multinational firms and foreign staff. It has found that, while it helps clients all over the world, the largest traffic lanes link the US, Europe and Australia.
Pressure in recent years has been on pricing, a result of the financial crises, as firms look to their vendors to reduce costs. And that has gone hand in hand with firms reducing their foreign staff and replacing them with people hired locally, as well as foreign corporations sending staff with smaller families—or no family at all—to bring down housing costs, outlays for school fees, and transfer costs.
H&R Group and ReloJapan, which operated a single office in Nagoya before opening one in Tokyo in 1999, focus exclusively on destinations within Japan for foreign multinationals and, increasingly, on major Japanese firms with international interests, such as Toyota.
Steve Burson, president of both firms, said that while traditionally up to 60% of clients came from the US, slightly more than 30% from Europe and the rest from other Western countries, that is now changing.
"We are experiencing perhaps a drop in the US relocations, but more activity from Europe, and we are also finding that, increasingly, Japanese companies are employing foreigners and therefore require our services", he said. "We have recently been focusing on being able to provide relocation support in more than just English, and also in Chinese, Thai, Indonesian and so on.
"In addition, we have recently begun to assist Japanese companies that wish to move out into the world", he said. "This is a new line of business that we are calling our Outbound Relocation, and we have tied up with relocation companies in China and India and are, therefore, supporting Japanese companies heading out to these countries.
"Since the earthquake, there have been more and more Japanese companies that are enquiring into how they can expand their businesses overseas".
Beyond Japan, Burson said, Asia has been "booming" for the relocation industry, along with the South American market.
"Things tend to go in cycles", he emphasised. "I think we are definitely at the start of an upward cycle in Tokyo. The dynamic of the expat coming to Tokyo has probably changed a little, and things definitely are different now, but I am confident that we will be seeing relatively more foreigners coming to Japan over the next few years.
"The story is a little different for Nagoya, Osaka and Kobe, however", he suggested. "Business confidence is not so high in these cities, and there is not the feeling that this will change much over the next 12 to 24 months".
Inevitably, confidence will return—Burson surmises maybe in 2013—particularly if the financial sector comes back to Tokyo.
"If the expats in finance return to Tokyo, we could see a pretty quick turnaround in terms of an influx of people returning to Tokyo in a quite short period of time", he believes. "Of course, this very much hinges on whether the US goes into a double dip recession, since that would, no doubt, delay the return of the financial sector to Tokyo".
And, while there are undoubtedly challenges ahead for the relocation sector here, the sense among many is that Japan has bounced back in the past and is certainly capable of doing so again.
"In regards to the long term, I truly believe in the Japanese people, their systems, their work ethic and the importance of Japan in the global marketplace", said Phoenix Transport's Giles.
"I believe that Japan has shown the world, over and over, the level of its patience, its resilience and its desire to improve and evolve", he added. "I believe that this combination of qualities will manifest itself as a newer, stronger, smarter and more mature Japan that will be willing and ready to bring value to the world, and the world will respond favourably".
Asian Tigers Japan:
www.asiantigers-japan.com
Crown Relocations Japan:
www.crownrelo.com/japan
Santa Fe Relocations:
www.santaferelo.com/global-network/japan
The H&R Group:
www.morethanrelo.com
Phoenix Transport Japan:
www.phoenixtransport.com