The British passport has seen a fair few changes over the years, from that rather large blue book through to the many versions of the current biometric one. Now, the way we apply for passports overseas is also changing.
You may already be aware that in April 2010, as part of a phased introduction, the embassy in Tokyo handed over all passport matters to the regional processing centre in Hong Kong, and that the second stage was implemented in August 2011, with the actual passports being printed in the UK. However, do you know the reason behind this change and future plans for the humble British passport?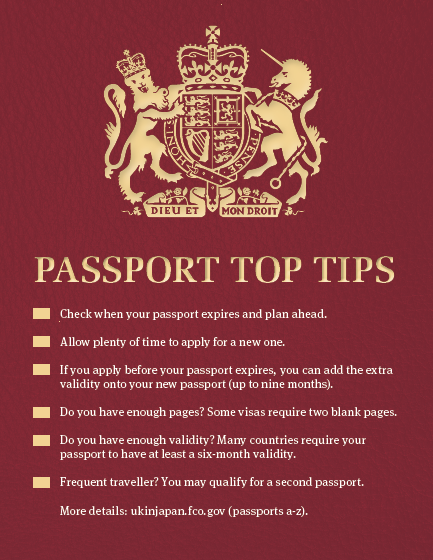 After more than 20 years as the overseas issuing authority for passports, the Foreign and Commonwealth Office (FCO) and the Home Office agreed that, from April 2011, the Identity & Passport Service (IPS), a Home Office agency, would become the single provider of full validity passports for British nationals at home and overseas.
In October 2010, IPS introduced a new style of passport with more sophisticated security features. These new elements ensure that we
continue to meet international quality and security standards, while reducing the likelihood of identity theft and passport fraud. It would be too expensive to print these new, secure passports overseas, without substantially increasing overseas passport fees.
By the end of 2010, seven Regional Passport Processing Centres had been created, including our nearest centre in Hong Kong. Since August this year, the printing part of the process has been carried out in the UK. This means that applications still need to be sent to Hong Kong, but you will receive your new passport directly from the UK. The move is a step towards the final aim of moving all passport application processing back to the UK.
Printing the books in the UK means that you will still have the ability to apply for your passport overseas, but will now be issued with a new-style passport bearing all the up-to-date security features that entails. IPS aims to process your new passport within four weeks (six weeks for first-time applicants) from receipt of the correct documentation and fee. There is no change to the passport fee. However, since August, courier fees have changed, as you need to pay for the separate return of your supporting documents and of your new passport.
Help! I need to travel urgently! I lost my passport!
Don't worry! If you need to travel urgently and you do not have a full validity passport (or if you have applied for a new one, but have not
yet received it) you can apply at the embassy for an Emergency Travel Document (ETD) that will allow you to travel. If you have lost your passport, you can contact the embassy in Tokyo or consulate general in Osaka for help