Why would a Japanese study Welsh?
With Europe's longest place name—Llanfairpwllgwyngyllgogerychwyrndrobwllllantysiliogogogoch—Welsh can be more like an exercise in tongue twisting than a language. Yuko Nakauchi, however, has got her vocal chords around all those tricky consonants and stray vowels and so was, in May, named winner of the British Council Japan's inaugural UK Alumni Talent Show for people who had studied in Britain.
Nakauchi, 33, can trace her interest in Cymru (Wales) and its tongue to her love of films and a chance viewing of Un Nos Ola' Leuad (One Moonlit Night), a 1991 Welsh-language film.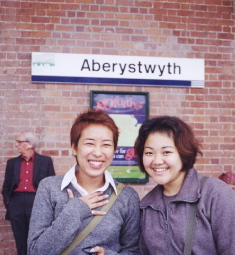 "I've always been interested in British music and films and I used to look for all the British films that were being screened in Tokyo", she said. "One day I went to see One Moonlit Night—and it turned out to be a Welsh film.
"I was shocked when I saw it, because they were not speaking English", she said. "It was a completely different language and that is how I first got interested in the Welsh language and Wales.
"At that time, I'd not been to Britain yet, but I'd always wanted to go", she said. "I tried to convince my parents to send me to a high school in Britain, but they wouldn't let me go because I'm an only child".
Instead, she saved her earnings from a part-time job and treated herself to a high-school graduation trip to Britain in 1996.
"When I stepped onto the platform at Paddington Station, I breathed in the air and was really excited", she said. Nakauchi's first trip to Britain lasted two weeks and also took her to Manchester.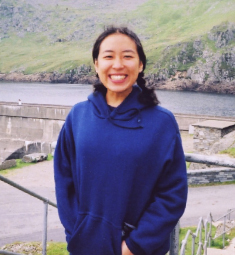 After returning to Japan, she started a degree in art history at a women's university in Tokyo, but at another film screening saw a leaflet about a professor of linguistics and language from Shizuoka Prefecture who had done an intensive course in Welsh.
Intrigued, she signed up for an eight-week summer course in Lampeter.
"It was intense", she said, "but by the end of it I could have a conversation in Welsh.
"After that, I had planned to come back to my university here and start studying art history again, but I realised that I found Welsh more interesting and so I decided to leave my university in Japan and apply to a university in Wales.
"My parents were a little shocked", she admits. "They had never heard the Welsh language before and my mother started crying when I told them my plans".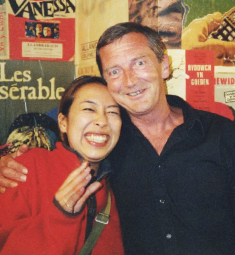 After talking her parents around, she enrolled in a four-year degree course at Aberystwyth University. One of only a dozen people in the first year, Nakauchi found the initial stages of learning the language fairly easy—thanks to the earlier intensive course—and used the time to brush up her English as well as getting used to the new environment.
"I like meeting the people there", she said. "The people in Aberystwyth are so close to each other. I'm from Shibuya, where you hardly ever say 'hello' to your neighbours and you often don't know who is living next door.
"But in Wales, the community is small and friendly and it was my first real experience of getting close to people".
The studies got harder in the second year of the course when they were joined by people who had an A-Level in the language.
"Yes, it was difficult at times, especially as I didn't understand English so well either at the beginning", she said. "I had two hurdles to overcome at the same time; I had to take two dictionaries to class every day. There are no Japanese-Welsh dictionaries and only one text book on the language in Japanese, and that dates back to the 1960s".
As well as studying the language, Nakauchi studied Welsh history, literature and culture while she also did a course on film and television.
According to the Welsh Language Board, about 611,000 people were able to speak Welsh in 2004, an increase on the previous study in 2001. The language emerged in the 6th century and has close links to Breton, Cornish and the extinct language known as Cumbric.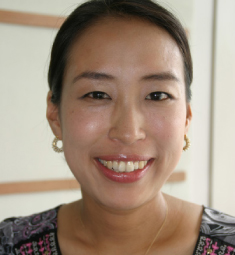 In her second year, Nakauchi shared a flat in the town centre, above a pub—The Cooper's Arms—with six other students and became great friends with the pub clientele. A local watering hole, everything was in Welsh and the English were not made all that welcome, she said.
The university had a lot of foreign students, including about 50 from Japan, but most were studying international politics. That includes Nakauchi's Swedish husband, Gustav Lovqvist, who now works at a language school in Tokyo.
Since returning to Japan in 2002, Nakauchi says she has not had many opportunities to use her Welsh skills, although she has acted as a translator and fixer for Welsh television crews that have come to Japan. She has also been working as a presenter on an Internet radio station, although she is taking time off after the birth of her second child.
Her specialist knowledge of Wales was recognised at the British Council competition, during which she gave a presentation on the country and its language, and shared trivia that many Welsh people probably don't know, such as the snippet about the famous movie director Hayao Miyazaki: the backgrounds in his film Laputa: Castle in the Sky were inspired by the Welsh countryside.
First prize was a trip to London with Virgin Atlantic—although Nakauchi hopes she will be able to use it after her baby is born—while she will also serve as an ambassador for British Council Japan Education UK, set up to encourage Japanese students to go to Britain for their university education.
Welsh phrases
Hello … Helô or Hylô
Wales … Cymru
I love you … Dw i'n dy garu di
Down with the English … Twll dîn pob Sais
Land of My Fathers … Hen Wlad fy Nhadau (national anthem)
Bye … Hwyl
Interested in Wales?
www.walesjapan.com