Applications should now be submitted online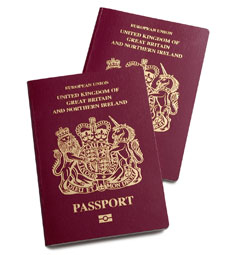 The UK government has made important changes to passport services for British nationals living abroad. The responsibility for issuing passports overseas has been passed from the Foreign & Commonwealth Office and its posts across the globe to Her Majesty's Passport Office in the UK.
The application process was centralised on 10 December. British nationals in Japan are no longer required to submit passport applications to the British Consulate General in Hong Kong.
They should now submit their applications online by visiting www.gov.uk/overseas-passports. All the information needed is available on the website.
There will be no change to processing times. For British nationals renewing passports, allow at least four weeks from the date the fee is taken and all the correct documentation has been received.
For those applying for their first passport or attempting to replace a lost or stolen passport, allow at least six weeks for processing. Applications may be delayed if the passport office needs further information.
The government advises applicants to avoid leaving renewal until the last minute. British nationals can apply to renew their passports at any time, and any remaining validity up to nine months will be transferred from a holder's old passport to the new one.
This important change follows reviews by the National Audit Office and is designed to achieve economies of scale, greater security and consistency in decision-making.
If you need to travel urgently, but your normal passport is not available, you should contact the nearest Consular Assistance team at the British Embassy Tokyo (03-5211-1100) or British Consulate General in Osaka (06-6120-5600).
www.gov.uk/government/world/japan
www.gov.uk/government/world-location-news/important-change-to-passport-service-for-british-nationals-in-japan